Choosing the Right Automotive Lift
January 20, 2022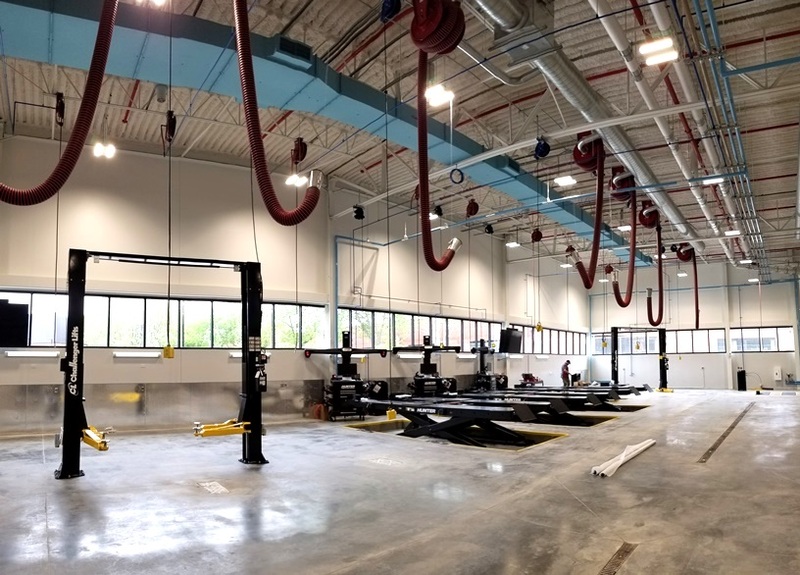 WHERE TO TURN FOR HELP?
It's not easy to choose the proper automotive lift for your service shop. You will most certainly need some help from a trusted local automotive equipment dealer who specializes in all things lift related.
A good lift equipment provider should have different manufacturers to choose from and they should know their stuff when it comes to installation, inspection, and maintenance. Your dealer should help you analyze your shop and if dialed in, ask a variety of good questions to set you up safely for success.
Questions like specific height and length of your bay area is a good start along with knowledge on the weight of vehicles you work on, the electrical requirements that will be needed, your overall concrete condition for installation and a host of other questions that we will try and cover along the way.
In order to help piece together the buying process for those of you trying to choose the right lift, Quality Automotive Equipment & Service, would like to share all that we can about lifts to keep you informed.


ADVANTAGES OF CHOOSING THE RIGHT LIFT
Go into most any auto repair shop, and you will see automotive lifts as the centerpiece of the service bay. Lifts are used more times by technicians per day than any other service shop equipment. It's good for you to have a plan when choosing the right one for a number of reasons.
Most shops choose lifts based on price alone but doing this can often affect:
Safety and Technician Working Conditions

Productivity and Turn Times

Profitability and Hours of Service Billed

Technician Recruitment and Retention



KNOWING YOUR SHOP REQUIREMENTS
There are a few things you should do before making a lift buying decision. It would be good if you could help your dealer by answering some questions up front.
For example, when it comes to the bay area and its space. Some good questions to answer would be as follows. What is the height of the bay? What is the length of the bay? What are the typical cars we have coming in for service (cars, trucks, semi's, etc..?) What are those vehicles weight? Are the vehicles heavier electric cars or gas powered generally?
Other questions to answer would be to see if there are any cracks in the concrete around where the lifts would be installed. Maybe find out what electrical outage you have (single phase, three phase) and where approximately can you access your electric from. You might also, if you don't already know, identify how many cars you'd like to potentially service a day, or how many cars you service already to maximize productivity.


TYPES OF LIFTS

Obviously to answer some of the questions above, you will also need to choose the right lifts first. A key component in choosing the right lift is to start by knowing their differences.
The types, styles and manufacturers of lifts all have something uniquely different about them. First off, there are car lifts, truck lifts and heavy-duty lifts so knowing the weight of the vehicles you are working on is important. Overall, both car and truck lifts basically boil down to the following lift types:
Two Post Lifts - Most widely used preventative maintenance and repair lifts on cars and trucks

Four Post Lifts - Used for fast-turn services like oil changes, undercarriage work and alignments

Inground Lifts - Used for both cars and trucks to help maximize floor space in the service bay.

Scissor Lifts - Accomodating lift used for quick service and fast repair work for smaller shops

Low-Rise Lifts - Low height, Ideal for wheel, tire, brake, body work and detailing jobs

Mobile Column Lifts - Most flexible heavy-duty options available, saves space and are mobile

Platform Lifts - Flexible 360-degree access for inspection, routine service or use as wash bay
EVALUATING LIFT MANUFACTURERS
A good dealer/distributor should have a variety of manufacturers to choose from as each manufacturer brings something different to the table. As a good rule of thumb, it's important to pick a manufacturer that provides support in more ways than one, from warranties and reputation to customer support, parts, and service.
Here are a few important manufacturer questions to consider:
Warranty - Is there an extended warranty? What components are covered?

Company Reputation - Who else uses these lifts? Can you speak with them? How durable are the lifts?

Company Location - Where are they located? Are there local representatives who can help when needed?

Lift Requirements - Does the manufacturer have what we need? Will I need accessories & adaptors?

Service and Support - Who helps service and inspect each year? Who do we call for support?

Replacement Parts - Are these covered? How long does it take to get replacement parts?

Legal Requirements - Are these products safe and backed legally by both the manufacturer and installer?

Lift Training - What types of training materials are there? Who locally helps our technicians with training?
Another terrific question to ask your distributor is, "Are you ALI -Automotive Lift Certified?" The reason it's important is ALI certified technicians are trained, tested, and approved lift specialists who check for structural integrity of the lift, provide certified inspections and instruction materials to meet all requirements. They also assure proper function of controls like overload protection and lift speeds.
WHAT'S NEXT?
Quality Automotive Equipment & Service an authorized dealer for some of the best automotive lift and shop equipment manufactures in the world. We are a family-owned distributor servicing the Midwest, located just outside of Kansas City, with the ability to ship around the U.S.
As an authorized dealer for some of the oldest and strongest lift manufacturers in the United States and abroad, Quality AES carries trusted brands like; Rotary, Hunter Engineering, Mohawk, and Stertil Koni, all of which are innovative auto industry leaders.
The team at Quality AES is made up of knowledgable service technicians, custom installers, and ALI certified lift inspectors. If it involves a lift, we can help from start to finish providing individualized sales, service, installation, inspections and hands-on training. Give us a call at 913-205-1350 or drop us a line here if you have a question. We look forward to speaking with you and helping you choose the perfect lift!