Heavy Duty Lifts for Farm Tractors and Agricultural Equipment
February 21, 2022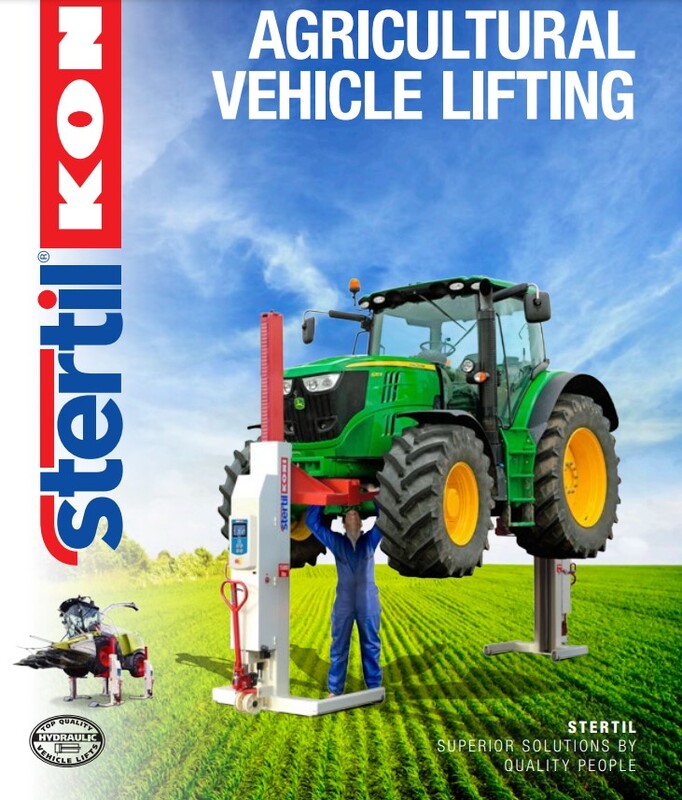 LOOKING FOR A HEAVY-DUTY FARM EQUIPMENT LIFT?
Make no mistake, when it comes to getting a farm tractor, harvester, trailer, or hay wagon in the air for maintenance, service, or repair, Stertil Koni Heavy Duty Agricultural Lifts will help get the job done!
Known as the industry leader in heavy duty lift equipment, Stertil Koni offers a variety of different ways to maximize lift capacity so that one can ergonomically have stand up access to the chassis of the lifted equipment you have, regardless of whether it's a wide combine harvester or long trailer.
Stertil Koni's wireless mobile column lifts provide a superior lifting solution all at the touch of screen. Whether you are able to work on your machinery inside or if the job has to be done outside, Stertil Koni offers the flexibility to do so as each column can be maneuvered by one person wirelessly. Of course, Stertil Koni also offers indoor 2-Post, 4-Post, Platform Lifts, Inground DIAMONDLIFTS and Inground Scissor ECOLIFTS as alternative lift options (see options below).
Lifting capacity shouldn't be a problem either! With a range of 14,000 lbs. to 40,000 lbs. per column, and a maximum single set configuration of 16 columns per side, you will have all the power you need to successfully do maintenance on your farm equipment. Additional features to help get the job done include extended lifting fork lengths, extra wide wheel adaptors and multipurpose adaptors that engage both the front and back of the frame. All in all, work has never been easier.




LIFTS BUILT FOR ALL BRANDS AND TYPES OF FARM MACHINERY
If you are a do it yourself type of person, as we expect many of you are, Stertil Koni lifts have the ability to be configured in a multitude of ways and can work with virtually any equipment. Whether it's a multiple axle or a three-wheel tractor, there is a Stertil Koni solution to meet your need.
Here is a list of a few tractor brands that these lifts can service:
John Deer

Case IH

Mahindra

Massey Ferguson

New Holland

Kubota

RBR Enterprises

Fendt

Class Tractors

SAME Tractors
As mentioned, the types of drivable heavy duty agricultural machinery that can be lifted includes a multitude of everyday farm equipment like row crop dusters, application machinery, tractors, wagons, trailers, and combine harvesters. These lifts, when set up correctly, can also make quick work of any additional non-drivable equipment like application equipment and tractor accessories as well.


HOW QUALITY AUTOMOTIVE EQUIPMENT & SERVICE HELPS
Located in the heart of the Midwest, in Kansas City, close to where our American farmers live and work, Quality Automotive Equipment & Service is a one stop shop for all lift equipment needs. As an authorized dealer distributor for Stertil Koni, as well as other well-known lift manufacturers, Quality AES offers a wide variety of heavy-duty lifts and lift services that can help our farmers too, not just the automotive industry.
We at Quality AES, feel it's important to introduce ourselves to the agricultural industry. As a family-owned business ourselves, we understand the sacrifices you farmers make and are so proud of the hard work, discipline and dedication you have in your day to day responsibilities.

Check out these Stertil Koni Lift links, complete with specifications, features, and brochures.
Whether you need a lift installed, inspected, or serviced, Quality AES, and its team of ALI certified technicians can help you get your equipment back out in the field, where it belongs. In addition, no matter where you are at in the United States, we can offer lift equipment sales and can provide both hands on and virtual lift training guidance.

Give us a call at 913-205-1350 today or if you prefer, reach out and ask us a question here. We look forward to helping all farmers the best we can!