New A/C Equipment By Rotary Coming Soon
February 22, 2023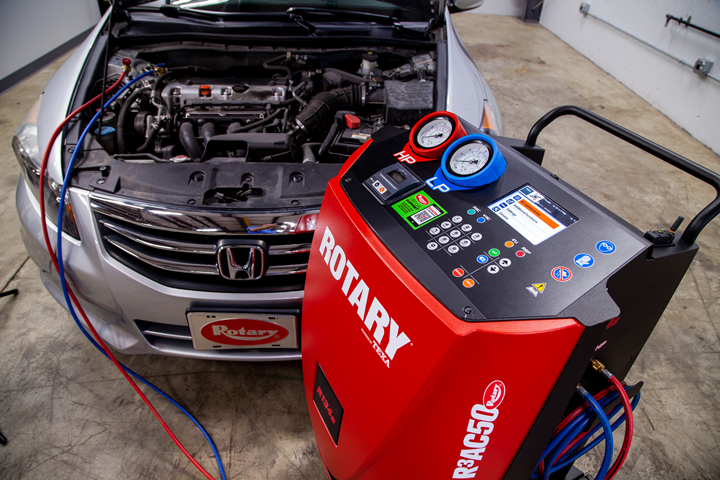 NEW A/C EQUIPMENT FROM ROTARY
Rotary recently announced a new line of A/C Solutions hitting the mechanic shop floor soon. Introduced at the recent SEMA 2022 show in Las Vegas, the new fully automatic air conditioning diagnostic and recharging equipment is top of the line and built by one of the most trusted names in the automotive equipment arena.
Providing North American service technicians an efficient and cost-effective way to recharge, recycle, and recover R134A and R1234Yf refrigerant gases, these easy-to-use machines supply maximum recovery.
As Rotary puts it, these machines are Simpler, Quicker, and Smarter. The machine automatically checks and displays oil and refrigerant levels with a simple easy to control navigation panel. The dual-fan evaporator saves time and money providing a quick way to increase the speed and efficiency of the reclamation process and the Wi-Fi enabled machine provides a smart way for data to be updated and monitored through multiple devices at once.

Rotary is offering three models that are available now for preorder:
R3AC50-A: Single Gas R134a Refrigerant Compatible
R3AC60-YF: Single Gas R1234yf Refrigerant Compatible
R3AC80-AYF: Dual Gas for both R134a and R1234yf Compatible

These A/C machines, simply put, will increase the amount of cars that can be charged per year for a service center creating additional revenue for your shop. They are also backed by Rotary's impeccable brand name and a warranty that rivals anyone in the industry.
ORDER YOURS THROUGH QUALITY AES TODAY
Quality Automotive Equipment & Service is an authorized dealer for Rotary products servicing both Kansas and Missouri transit industries, dealership service centers and commercial truck service facilities.
Whether you need automotive lifts, wheel service equipment, or want to get your hands on Rotary's new A/C machines, Quality AES can help expedite your orders.
As preorders are already piling up for Rotary's new A/C machines across the nation, our special dealer status allows us to order, ship and factory train your service technicians before the hot summer months ahead.
If you have some questions about these Rotary A/C machines or would like to talk with our parts and service technicians in general, feel free to give us a call at 913-205-1350 or
email us here
.