Quality AES Interviews Crown Toyota of Lawrence
August 29, 2022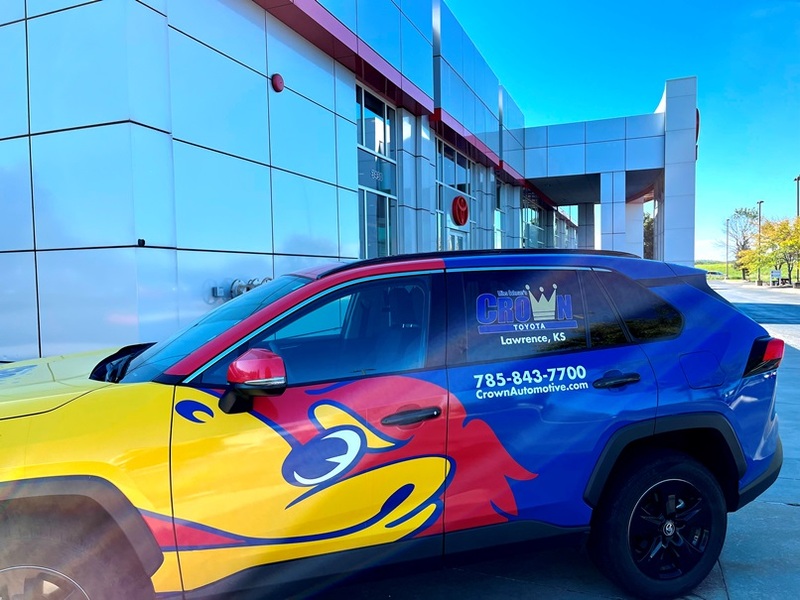 WHO IS CROWN AUTOMOTIVE GROUP?

Since opening its doors 28 years ago, Crown Automotive Group, out of Lawrence, KS, has been a staple in the KU community. Driven to be more involved within the city than your standard ho hum automotive dealership, Crown Automotive spends a ton of energy, effort, and time helping give back to the town wherever and whenever possible.
Whether it be the community involvement and charitable contributions they are so fondly giving to or the extra trade show space they provide inside their buildings to local organizations, they strive to make a real difference to the entire Lawrence population and do.
Crown Automotive operates both a Volkswagen and Toyota dealership locally and is the preferred automobile supplier to the entire KU athletic department, a school they are also strongly committed to supporting.
CROWN AUTOMOTIVE GROUP AND QUALITY AES
We recently had the chance to sit down with Crown Auto Group's parts and service director, Ginger Lopez, who has 36 years' experience in the automotive industry and one who is a seasoned pro when it comes to managing her team, satisfying customers, and knowing how best to maximize service shop results and revenue.
Being around automotive equipment, technicians, and lifts most of her life, Ginger says, "I've seen it all and when it comes to our shop's needs, I know what makes a great partnership and that's what I have with Quality Automotive Equipment & Service, a true partnership".
Quality AES Sales Manager, Drew Moore, and Ginger first met 4 to 5 years ago. Ginger had worked with another equipment provider in the Kansas City area but after spending some time with Drew, she gave Quality AES a shot at her business and hasn't looked back since.
THE RELATIONSHIP OVER THE YEARS
Little did she know that it would be the start to something special for years to come. Over those years, since that first transaction, the vendor dealership relationship turned into more of a trusted partnership between Crown Automotive and Quality AES.
Some of the problems that Crown Toyota of Lawrence faced was shop space and how to maximize lift installation so that it could work more efficiently given the spatial parameters they had to work in. She tasked Drew and the Quality AES team to come up with a solution that would work.

It would be through this process that she truly gained the respect for the entire team at Quality. From the strategy and concept stage to the installation and finished product, Ginger was blown away. She says, "The entire Quality team was clean cut, professional, they didn't disrupt the flow of business, the service techs cared, helped us and with no inconvenience to our team, they got the job done in what is a very complicated space".
Over the years, Ginger has entrusted Quality Automotive to help them with a variety of shop equipment needs like tire changers, air compressors, dryers, and lifts. "Whether it's a new lift installation, replacing shop equipment, servicing our existing lifts or getting our lifts inspected annually, Quality takes care of it all, and is thorough with their work", Ginger says.
She recalls how above and beyond the last lift inspections she had Quality do for the service shop were. "It was incredible, when they finished, I was given reports for each lift that covered safety hazards, maintenance options and a complete explanation for anything that could put our technicians in an unsafe environment", Ginger says.
QUALITY AES VALUE IS IRREPLACEABLE
When asked to expand on the value that Quality AES has brought to the Crown Automotive stores, Ginger didn't mince words.
She mentioned the quality and thoroughness of the work that is done by Quality AES not only keeps her technicians safe, but their work helps us become more efficient. Along with this, Ginger put a high emphasis on the price, speediness, and accuracy of the work Quality does as big differentiators.

Ginger says, "What's so great working with Quality aside from all the things I just mentioned is that bottom line, the entire team at Quality is looking out for us. They want to keep us safe with limited down time and ultimately, they save us time, and money with limited lost revenue".
Ginger, thank you for your time! We are so happy to have you as a customer and look forward to the future working hand and hand with you and your incredible team!