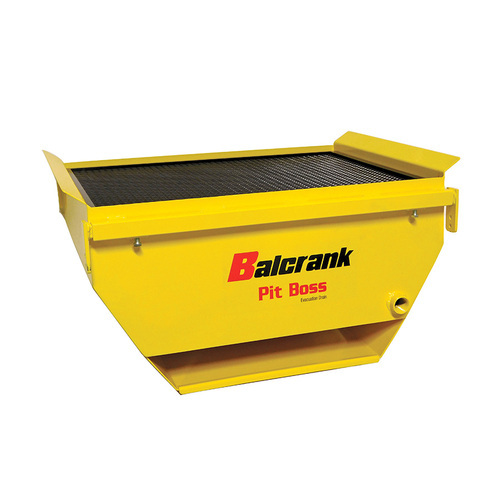 Made in the USA

26 Gallon to 34 Gallon Capacity

94 lbs. to 104 lbs. Weight

Connects to Used Oil Evacuation Systems with a Cam-Lock Kit

All Steel Construction

Two (2) Anti Splash Baffles with Side Splash Guards

Ball Drain Valve Produces Cleaner and Faster Evacuation

3" Diameter Wheels Mounted to Accomodate 34" to 53" Pit Track

Pit Service Tool Shelf Below the Tank

Corrosion Resistant with Powder Coating


1-Year Replacement Warranty
Balcrank Pit Boss
Rolling Pit Drain
Since 1906, Balcrank has been developing and manufacturing machine tools for the automotive world, specifically, hand wheels and starting cranks for automobiles in the beginning.
Fast forward to the present and Balcrank is still designing high quality machines and equipment to help make technicians lives easier, more productive and safer. It's no exception to these objectives when looking over Balcrank's Pit Boss Rolling Pit Drain, a larger pit drain to capture used fluids like oil.
The Pit Boss Rolling Pit Drain is designed to roll on guide tracks (34" to 53") in a shops pit and connects directly to a used fluid evacuation system. With two anti-splash baffles with side splash guards and a metal catch screen, the pit boss helps a shop not have to worry about spills.
Two of the most commonly purchased pit drain models by Balcrank are:
4140-020 - Bare Pit Drain, 34 Gallon Capacity and 104 lb Weight

4140-060 - Pit Drain with 1" Cam-Lock Nipple, 26 Gallon and 94 lb. Weight
Made in the USA with solid steel construction, Balcrank and its authorized dealer, Quality Automotive Equipment and Service are both in the business of supplying hard working technicians across the globe the equipment needed to complete their job quicker and more reliably.
Quality AES and their team of technicians look forward to hearing from you and are available today at 913-205-1350. We can help provide insight and answer your questions about the various styles and models of used fluid drains available by Balcrank. No matter where you are at in the country, Quality AES has the inventory and capability of shipping any of these fine oil and anti-freeze drains to you.
Made in the USA

26 Gallon to 34 Gallon Capacity

94 lbs. to 104 lbs. Weight

Connects to Used Oil Evacuation Systems with a Cam-Lock Kit

All Steel Construction

Two (2) Anti Splash Baffles with Side Splash Guards

Ball Drain Valve Produces Cleaner and Faster Evacuation

3" Diameter Wheels Mounted to Accomodate 34" to 53" Pit Track

Pit Service Tool Shelf Below the Tank

Corrosion Resistant with Powder Coating


1-Year Replacement Warranty