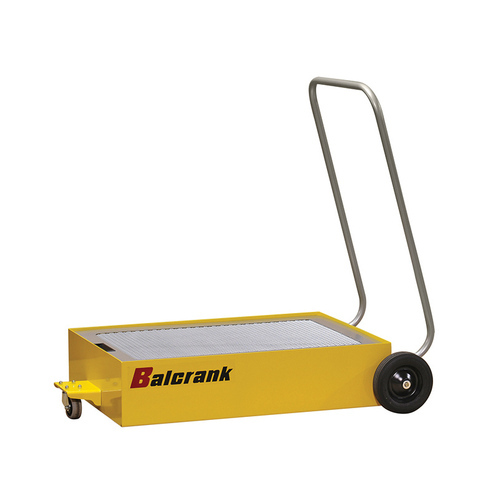 Made in the USA

Comes Pre-Assembled

Connects to Used Oil Evacuation Systems with a Cam-Lock Kit

Two Fixed 8" Wheels with Swivel Caster

Double Baffles with Upper Screen to Prevent Splashing

Tubulur U-Handle Design

All Steel Construction

Oil and Anti-Freeze Models Available

Corrosion Resistant with Powder Coating

1-Year Replacement Warranty
Balcrank Truck Drain
Oil and Anti-Freeze Drains
Balcrank has been providing mechanics sound automotive equipment for 115 years now. Over those years, Balcrank has outsmarted the other competitors in the oil drain market with design, innovation and durable evacuation equipment that lasts.
Made in the USA, Balcrank provides a wide variety of used oil drains, from roughneck and premium drains to truck and pit drains. Balcrank Truck Drains come fully assembled and can connect to a used oil evacuation system that uses a cam-lock kit and evacuation system.
This truck drain has an all steel design and a 9" maximum height. It has two fixed 8" wheels, 1 swivel caster and a tubular U-handle design that allows the drain to be easily maneuverable by a technician.
Balcrank offers 3 models of truck drains to choose from:
4120-006 - Truck Drain Bare

4120-003 - Low Volume Truck Drain for Used Anti-Freeze

4120-004 - Low Volume Truck Drain for Used Oil
The low volume truck drain by Balcrank uses two anti-splash baffles, side splash guards and a metal catch screen that protects from spilled fluids in the shop. With special cam-lock coupler upgrades with nipple rated for either 250 psi or 3,000 psi, there are options to customize the drains.
Quality Automotive Equipment & Service is an authorized dealer for Balcrank truck drains and is the Midwest's leading supplier for auto shops, quick lubes and service bays all over the country. Our team of technicians and staff are happy to assist you in identifying the right used fluid drains for your shop and can help answer any questions you may have today. Reach out to us at 913-205-1350 or ask us your question here. We look forward to hearing from you!
Made in the USA

Comes Pre-Assembled

Connects to Used Oil Evacuation Systems with a Cam-Lock Kit

Two Fixed 8" Wheels with Swivel Caster

Double Baffles with Upper Screen to Prevent Splashing

Tubulur U-Handle Design

All Steel Construction

Oil and Anti-Freeze Models Available

Corrosion Resistant with Powder Coating

1-Year Replacement Warranty