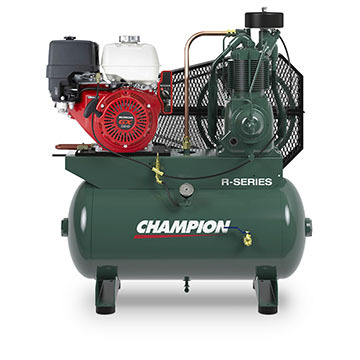 Two-Stage Compressor Pump

Enclosed Belt Guard/Belt Driven

Available in Splash and Pressure Lubrication

ASME & CRN Certified 30, 60, 80 Gallon Horizontal Air Recievers

Electric Start

Oil Level Sight Glass

5 Year Compressor Pump Warranty

Precision Balanced Flywheel for Optimal Compressor Cooling

High Flow Disc Valves

Intercooler For Cooling Between Stages

Preset Pressure Ratings up to 250 PSIG

Gasketless Designed Integral Cylinder Head

Electric Fuel Pump (Optional)

Regulator and Line Oiler (Optional)

Canvas Cover (Optional)

Auxillary Fuel Tanks (Optional)
Champion Engine Driven
9.1-22.5 HP Reciprocating Air Compressor
As the leader is manufacturing dependable compressed air systems, there is nothing more suitable for the tools our mechanics rely on than Champion compressors.
Offering a complete line of engine driven compressor packages ranging from 9.1 to 22.5 HP, Champion delivers to meet any application. Champion Engine Driven Reciprocating Air Compressors are used in emergency or remote working locations and for everyday shop needs.
The R and PL Series Air Compressor design features allow for both a gas or diesel engine offering and provides a flexible oil drain hose that helps leave a work area without leaving a messy oil spill. Both models offer a variety of unique features, are either splash or pressure lubricated, and come with a 5-year compressor pump warranty.
The PL-Series Air Compressor by Champion includes the following features:
Pressure Lubricated

5 Year Compressor Pump Warranty

250 psi Operating Level

Front Mounted Oil Pressure Gauge

Load Less Starting

Lubricant Filtration

Replaceable and Inexpensive Babbitt Bearings

Positive Displacement Oil Pump

Extreme Duty and Industrial Application Tested

Domed Pistons, Integral Cylinder Head and Disc Valves

Oil Pump Provides Lubricant to all Crucial Parts of Compressor

Extra Heavy-Duty Design
The R-Series Air Compressor by Champion includes these following features:
Splash-Lubricated

High Performance, Long Life and True Value

Multi-Finned Cylinders

Integral Cylinder/Head

Balanced Pistons

Piston Rings

Intercoolers

Optmized Cooling Fan/Flywheel

Reliable, High-Flow Valves

Oversized Main Bearings

Lightweight Connecting Rods

Pressure Relief Valves

Large Capacity Crankcase

Balanced Crankshaft
Load Less Starting
Regardless of your shop's needs, Champion and your team at Quality Automotive Equipment and Service, an authorized dealer for Champion, has you covered. Reach out to us here or give our team of certified Champion technicians a call today at 913-205-1350. We are glad you found us and look forward to helping you!
Two-Stage Compressor Pump

Enclosed Belt Guard/Belt Driven

Available in Splash and Pressure Lubrication

ASME & CRN Certified 30, 60, 80 Gallon Horizontal Air Recievers

Electric Start

Oil Level Sight Glass

5 Year Compressor Pump Warranty

Precision Balanced Flywheel for Optimal Compressor Cooling

High Flow Disc Valves

Intercooler For Cooling Between Stages

Preset Pressure Ratings up to 250 PSIG

Gasketless Designed Integral Cylinder Head

Electric Fuel Pump (Optional)

Regulator and Line Oiler (Optional)

Canvas Cover (Optional)

Auxillary Fuel Tanks (Optional)