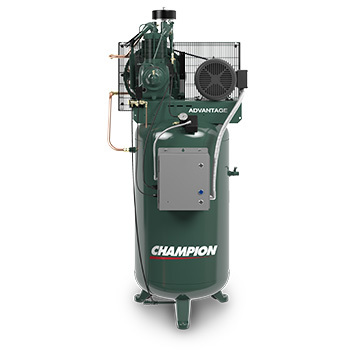 2, 3, 5, 7.5, 15, 20 and 30 HP Options

Mulit-Finned Cylinders

Pressure Relief Valves

Oversized Main Bearings

Large Capacity Crankcase

Balanced Crankshaft and Pistons

Loadless Starting

Intercoolers

Piston Rings

Lightweight Connecting Rods

Optimized Cooling Fan & Flywheel

Reliable, High-Flow Disc Valves

Splash-Lubricated Compressor
Champion R-Series
2-30 HP Reciprocating Air Compressors
Since 1919, Champion has been providing quality air compressors to the automotive service shop industry and the technicians that rely on them every day.
The R-Series Reciprocating Air Compressor by Champion has come a long way in 100+ years in that it provides shop owners and technicians a variety of unit configurations, tank sizes and applications to customize your needed demand.
Offered in 2, 3, 5, 7.5, 15, 20 and 30 HP, the R-Series comes with a 6-year warranty and is loaded with standard features and available options to handle most any shops air supply demand. Whether you need a base mount, horizontal, vertical, duplex, engine driven or bare compressor pump, Champion provides you the ability to customize it all.
Here are some of the available options on Champion's R-Series Reciprocating Air Compressors:
Multiple Tank Sizes and Variations

Dual Control Options

Electric or Engine Driven Options

Vibration Isolators

Food Grade Lubricant

High Temperature Switch

Automatic Electric Tank Drain

NEMA 4 Full-Voltage Starter Upgrade

TEFC Motor Upgrades

Control Panel Upgrades for Auto Switch and Hour Meter

Air Cooled Aftercooler

Low Oil-Stop Control
As most mechanics know, downstream condensation from air compressors can cause havoc on a shop floor, even injuries in some cases. The R-Series provides an additional and optional refrigerated air dryer capability which helps cool compressed air to a 33-39-degree dew point, eliminating future problems from condensation in the air line.
With all the options and upgrades avalable with Champion R-Series air compressors, you need a team of technicians that not only understand Champion air compressors but work with mechanics and shop owners everyday in making decisions for their unique needs.
Quality Automotive Equipment and Service, an authorized distributor of Champion, is considered by many to be the #1 automotive equipment supplier in the Midwest. Our team can help you customize your air compressors, purchase them, train your techs and provide annual maintenance for your shop. Give the team at Quality AES a call today at 913-205-1350 or ask us your question here. We look forward to talking with you!
2, 3, 5, 7.5, 15, 20 and 30 HP Options

Mulit-Finned Cylinders

Pressure Relief Valves

Oversized Main Bearings

Large Capacity Crankcase

Balanced Crankshaft and Pistons

Loadless Starting

Intercoolers

Piston Rings

Lightweight Connecting Rods

Optimized Cooling Fan & Flywheel

Reliable, High-Flow Disc Valves

Splash-Lubricated Compressor