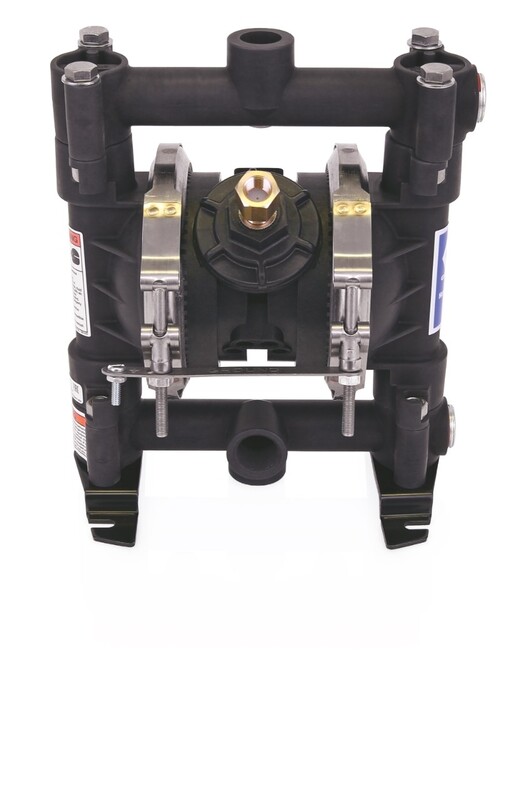 Husky 716 Series Features
Compatible Material: Oil, Water, Antifreeze, Windshield Washer Fluid

Delivers Up to 16 gpm of Fluid

Features Center and End Porting Options

No Seals or Leaks or Fails

¾ in Center and End Porting

No Mechanical Seals Causing Fluid Leaks or Failures

Runs Quiet: Less than 85 dBa with Remote Muffler Capability

Easy to Service Air Valve and Ball Checks

Ideal for Bulk Antifreeze and Windshield Solvent Transfer

Includes: 716 AODD Pump, Air Regulator, Fluid Connect Hose, Air Connect Hose, Air Shut Off Valve, Wall Mount Bracket, Suction Kit, and Thermal Relief Kit
Graco 716 Series
Evacuation Transfer Pump
GRACO FLUID EVACUATION PUMPS

Oil management has come a long way over the years. Automotive technicians have, of course, always adapted to what works best for them but in today's world, if you operate a dealership service shop, heavy-duty equipment or fleet service shop, it's not just the mechanics making your decisions now.
Today, if you don't have a good pulse on your oil consumption use and supply, it costs your shop valuable time and missed revenue opportunities, something fixed ops managers now pay close attention to. Having a pulse on your fluid supply and distribution is pivotal to your business running smoothly and it's the new way things are heading.
Dominating the oil and fluid evacuation equipment market, Graco is the go-to leader for oil management systems. Whether you are looking for drains, hose reels, transfer pumps, bulk fluid management systems, or dispense guns, Graco and its authorized dealer for the Midwest, Quality Automotive Equipment and Service, has you covered.
The Graco Husky 716 Series Transfer Pump and Package is a good example of an oil evacuation system that's durable, reliable, and built to last for just about any service shop around. With a range of options and capabilities, Graco equipment can align products to your specific needs.
Graco Husky 716 Series Transfer Models:
241906 Husky 716 Series Air-Operated Double Diaghragm Transfer Pump for Oil Evacuation/Transfer, Water, Antifreeze and Windshield Wash Fluid

244682 Husky 716 Series Single Inlet Bulk Antifreeze and Windshield Solvent Transfer Package
Husky 716 Series Features
Compatible Material: Oil, Water, Antifreeze, Windshield Washer Fluid

Delivers Up to 16 gpm of Fluid

Features Center and End Porting Options

No Seals or Leaks or Fails

¾ in Center and End Porting

No Mechanical Seals Causing Fluid Leaks or Failures

Runs Quiet: Less than 85 dBa with Remote Muffler Capability

Easy to Service Air Valve and Ball Checks

Ideal for Bulk Antifreeze and Windshield Solvent Transfer
QUALITY AES KNOWS FLUID EVACUATION SYSTEMS
Headquartered near Kansas City, KS, Quality Automotive Equipment & Service is the leading provider for equipment, service, installation, and maintenance for Kansas and Missouri.
Able to sell all over the United States, it's our local shops within a 200-mile radius of Kansas City, that get the full benefits of our true capability. Some examples include on site service and maintenance, on location installation and face-to-face factory authorized training on all Graco equipment.
Quality AES knows Oil Management Systems and we look forward to helping your shop save money and time utilizing the best equipment evacuation in the business. If you'd like to talk to us about your unique shops needs or Graco equipment specifically, give our team a call at 913-205-1350 or feel free to
email us directly
.
Husky 716 Series Features
Compatible Material: Oil, Water, Antifreeze, Windshield Washer Fluid

Delivers Up to 16 gpm of Fluid

Features Center and End Porting Options

No Seals or Leaks or Fails

¾ in Center and End Porting

No Mechanical Seals Causing Fluid Leaks or Failures

Runs Quiet: Less than 85 dBa with Remote Muffler Capability

Easy to Service Air Valve and Ball Checks

Ideal for Bulk Antifreeze and Windshield Solvent Transfer

Includes: 716 AODD Pump, Air Regulator, Fluid Connect Hose, Air Connect Hose, Air Shut Off Valve, Wall Mount Bracket, Suction Kit, and Thermal Relief Kit