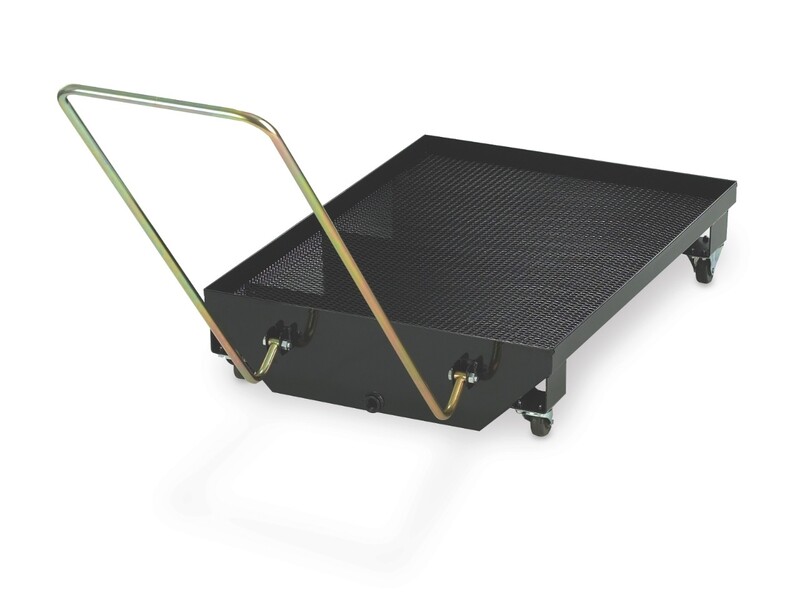 Built for Truck Maintenance Facilities

Large Capacity

Easily Maneuverable

Gravity Drain Valve

26 Gallon Tank Capacity

Black in Color

3/4" Fluid Outlet Size and NPT Fluid Outlet Thread Type

11" Overall Height

42" Overall Length

30" Overall Width
Comes Ready to Use Immediately
Graco Big Hauler
Truck Oil Fluid Drain
GRACO BIG HAULER TRUCK FLUID DRAIN
Since 1929, Graco has built their business around lubrication products for a variety of different industries. Known today for their air powered and portable lubrication equipment, Graco's fluid handling products are built to make service technicians jobs easier in the automotive sector.
When it comes to oil, coolant, or anti-freeze evacuation systems for big trucks, the Graco Big Hauler won't disapoint. It has a 26 gallon capacity tank and is durably built with wheels for easy portability.
Graco understands the frustrations that come with fluid evacuation and has a long line of products that are specifically built to help technicians do their job more effectively. They also back their products with a 5-year warranty on their fluid drains.
Features of Graco's Big Hauler Truck Drain
Built for Truck Maintenance Facilities

Large Capacity

Easily Maneuverable

Gravity Drain Valve

26 Gallon Tank Capacity

Black in Color

3/4" Fluid Outlet Size and NPT Fluid Outlet Thread Type

11" Overall Height

42" Overall Length

30" Overall Width
Graco Partners with Quality AES
Quality Automotive Equipment & Service, based out of Kansas City, is an authorized dealer for Graco and a Midwest leader for automotive equipment, sales, service, installation, and maintenance.
Whether you are in need of heavy duty automotive lifts and alignment systems or your looking for simple shop equipment like reels and fluid drains, Quality AES can help.
We encourage you to get to know our team, our history and what we provide auto dealers and service shops across the United States. Give us a call today at 913-205-1350 and talk with our team about your shops needs or if you prefer, send us your questions here.
Built for Truck Maintenance Facilities

Large Capacity

Easily Maneuverable

Gravity Drain Valve

26 Gallon Tank Capacity

Black in Color

3/4" Fluid Outlet Size and NPT Fluid Outlet Thread Type

11" Overall Height

42" Overall Length

30" Overall Width
Comes Ready to Use Immediately