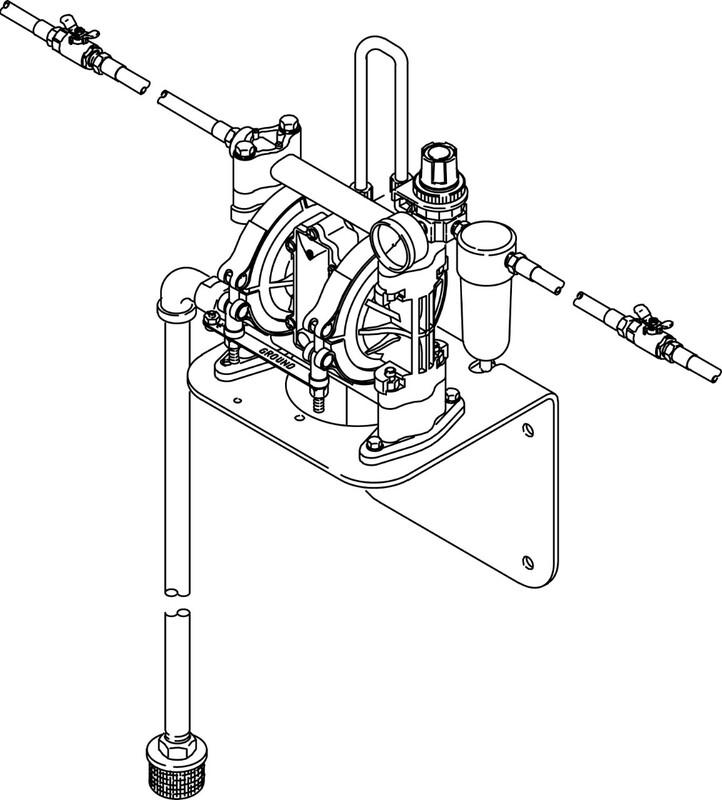 Features of the Husky 307 Series Pump Package
Quick and Easy Design for Assembly and Disassembly

Each Pump Tested Prior to Shipping

3/8 in End Porting

Delivery up to 7 gpm

Ball Checks and Air Valves Easy to Service

Operates on 20 psi

Pump Multiple Fluids Without Mixing Using Split Manifold Option

Compatible Material: Oil, Water, Antifreeze, Windshield Washer Fluid Use

Includes: Diaphragm Pump, Air Hose, Air Filter, Air Regulator, Fluid Hose, Air Guage, Air Line Fitting, Mounting Bracket, Elbow, Tube, Adapter, Nipple, Suction Hose Kit, Mesh Strainer, Wall Bracket and PVC Hose
Graco Husky 307 Series
Transfer Pump Package
INDUSTRY LEADING GRACO EVACUATION EQUIPMENT
Graco knows oil management and makes some of the worlds best oil evacuation equipment around. Whether you're an automotive dealership, service center, or fleet service facility, Graco and its extended line of evacuation pumps and packages keep your shop in the now.
Graco's Husky 307 Series Pre-Mixed Windshield Wash Solvent and Coolant Dispense Diaphragm pump package is an air operated pump featuring a smooth and rapid changeover due to its stall-free pulsation air valve.
Typical applications for the Husky 307 Series include windshield wash solution dispense, and water and anti-freeze dispense as well as oil transfer, evacuation, fuel dispense and transfer.
Features of the Husky 307 Series Pump Package
Quick and Easy Design for Assembly and Disassembly

Each Pump Tested Prior to Shipping

3/8 in End Porting

Delivery up to 7 gpm

Ball Checks and Air Valves Easy to Service

Operates on 20 psi

Pump Multiple Fluids Without Mixing Using Split Manifold Option

Compatible Material: Oil, Water, Antifreeze, Windshield Washer Fluid Use

Includes: Diaphragm Pump, Air Hose, Air Filter, Air Regulator, Fluid Hose, Air Guage, Air Line Fitting, Mounting Bracket, Elbow, Tube, Adapter, Nipple, Suction Hose Kit, Mesh Strainer, Wall Bracket and PVC Hose
WHY CHOOSE QUALITY AES FOR OIL MANAGEMENT
Quality Automotive Equipment & Service is an authorized dealer for the entire Graco product line. This means we are factory trained from the manufacturer itself so that we can help service, sale, install, train and inspect all in one swoop.
Located in the heart of the country, near Kansas City, Quality AES has been helping car dealership service shops, quick lanes, and automotive techns with oil management needs for some time.
If you'd like to learn more about Graco's Husky 307 Series Pump Package or any of the other industry leading evacuation equipment that's built by the Graco name, give us a call at 913-205-1350 or if you prefer,
send us an email here
.
Features of the Husky 307 Series Pump Package
Quick and Easy Design for Assembly and Disassembly

Each Pump Tested Prior to Shipping

3/8 in End Porting

Delivery up to 7 gpm

Ball Checks and Air Valves Easy to Service

Operates on 20 psi

Pump Multiple Fluids Without Mixing Using Split Manifold Option

Compatible Material: Oil, Water, Antifreeze, Windshield Washer Fluid Use

Includes: Diaphragm Pump, Air Hose, Air Filter, Air Regulator, Fluid Hose, Air Guage, Air Line Fitting, Mounting Bracket, Elbow, Tube, Adapter, Nipple, Suction Hose Kit, Mesh Strainer, Wall Bracket and PVC Hose