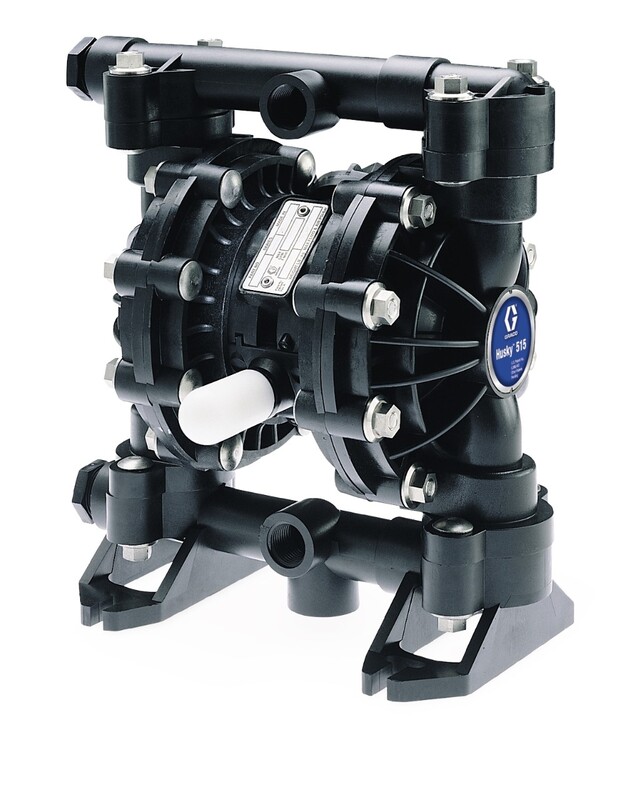 Here are some of the features for Graco's Husky 515 Series Transfer Pumps
No Mechanical Seals to Cause Fluid Leaks or Failures

Easy to Service Air Valve and Ball Checks

Reliable Air Valve Equals Dependable Performance for Years

Center and End Porting Options

Runs Quietly – Less than 85 dBa with Remote Muffler Capability

Operates on as Little as 20 psi

Delivery up to 15 gpm

Split Manifold Option to Pump Multiple Fluids Without Mixing

Compatible Material: Water, Antifreeze, Windshield Washer Fluid
Graco Husky 515 Series
Evacuation Transfer Pump
EVACUATION EQUIPMENT BY GRACO
Graco oil management products are some of the most reliable in the world. Automotive mechanics swear by them, and Quality Automotive Equipment & Service is proud to represent their line as an authorized dealer in the Midwest.
If you seek top of the line hose reels, drains, fluid management systems, and evacuation equipment, Graco is a wise place to start. Known to make long-lasting, reliable equipment, Graco has years of experience and a warranty to match.
The same holds true for the Husky 515 Series Transfer Pump. Fluid evacuation is a must for automotive shops, whether you are a small family run operation, a quick lane, fleet service provider or a large dealership, having a system that helps manage and transfer fluid helps shops run smoothly.
The Husky 515 Series Transfer Pump come in two models and are built to handle water, antifreeze, and windshield washer fluid evacuation and applications.
Graco Husky 515 Series Transfer Models:
243669 Husky 515 Series Air-Operated Double Diaphragm Transfer Pump for 50/50 Windshield Wash Solution, Water, Antifreeze

244681 Husky 515 Series Dual Inlet Bulk Antifreeze and Windshield Solvent Tranfer Packages
Here are some of the features for Graco's Husky 515 Series Transfer Pumps
No Mechanical Seals to Cause Fluid Leaks or Failures

Easy to Service Air Valve and Ball Checks

Reliable Air Valve Equals Dependable Performance for Years

Center and End Porting Options

Runs Quietly – Less than 85 dBa with Remote Muffler Capability

Operates on as Little as 20 psi

Delivery up to 15 gpm

Split Manifold Option to Pump Multiple Fluids Without Mixing

Compatible Material: Water, Antifreeze, Windshield Washer Fluid
WHY CHOOSE QUALITY AES FOR FLUID EVACUATION?
Not only is Quality AES an approved dealer with Graco, we are also factory certified and trained by Graco to represent their line of automotive equipment, including their fluid evacuation products.
Quality AES has been servicing automotive service shops for a long time and offer a handful of products and services that help separate us from other equipment distributors.
From custom equipment installation onsite and on location service and maintenance packages to annual inspections, parts and onsite technician training, Quality AES has you covered at every turn.
If you'd like to discuss your shops oil management system or have some questions about Graco's Husky 515 Series Transfer Pumps in particular, we are happy to assist. Feel free to give us a call at 913-205-1350 or reach out to us in
email here
.
Here are some of the features for Graco's Husky 515 Series Transfer Pumps
No Mechanical Seals to Cause Fluid Leaks or Failures

Easy to Service Air Valve and Ball Checks

Reliable Air Valve Equals Dependable Performance for Years

Center and End Porting Options

Runs Quietly – Less than 85 dBa with Remote Muffler Capability

Operates on as Little as 20 psi

Delivery up to 15 gpm

Split Manifold Option to Pump Multiple Fluids Without Mixing

Compatible Material: Water, Antifreeze, Windshield Washer Fluid