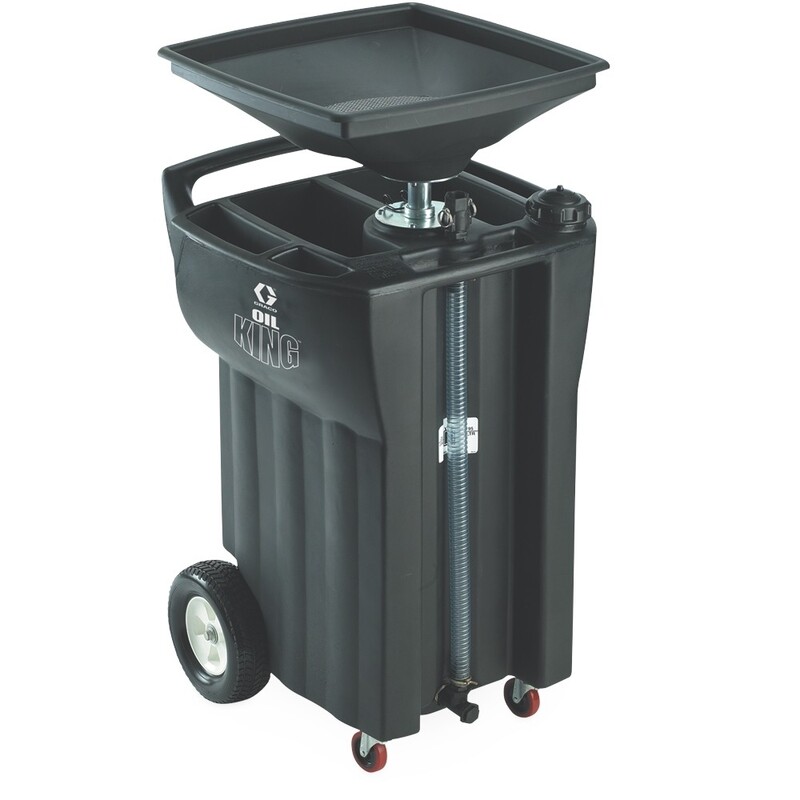 Features of Graco's Oil King Fluid Drain
Filter Drain Tray – Allows you to drain separately from the collection pan.

Large Collection Pan – Equipped with a filter, the funnel can be raised to a 72"

Large 25 Gallon Capacity Receiver – Built to last, its dent, rust, and corrosion resistant

Two Evacuation Ports – A gravity fed drain at the bottom or suction evacuation at the top

Convenient Tool Tray – Used for filters, wrenches, and rags necessary for the job

Liquid Site Gauge – Know where your fluid levels are with a full-length level sight gauge

Oversized Tires and Push-Pull Handle – Built for maneuverability and portability

Black in Color

3" Fluid Inlet Size

¾" Fluid Outlet Size

5.75' or 69" Overall Height

2" Overall Width
Graco Oil King
Oil Fluid Evacuation Drain
GRACO OIL KING FLUID EVACUATION DRAINS
Graco, founded in 1926, has been a staple in the automotive industry for decades now and offer an incredible line of portable fluid drains that are field tested for oil and coolant draining and evacuation.
Whether you are handling waste oil, coolant, or antifreeze, Graco fluid drains offer a cost-effective solution that are built to help simplify a technician's day-to-day activities. Aside from being durable, Graco fluid drains are outfitted with wheels that are bulky so they are portable to a mechanic.
Graco's Oil King Fluid Drain is a 25-gallon used oil receiver built for shops that are busy. The oversized tires and push-pull handle allows the Oil King to easily be maneuverable and comes with a large funnel and drain plug.
Features of Graco's Oil King Fluid Drain
Filter Drain Tray – Allows you to drain separately from the collection pan.

Large Collection Pan – Equipped with a filter, the funnel can be raised to a 72"

Large 25 Gallon Capacity Receiver – Built to last, its dent, rust, and corrosion resistant

Two Evacuation Ports – A gravity fed drain at the bottom or suction evacuation at the top

Convenient Tool Tray – Used for filters, wrenches, and rags necessary for the job

Liquid Site Gauge – Know where your fluid levels are with a full-length level sight gauge

Oversized Tires and Push-Pull Handle – Built for maneuverability and portability

Black in Color

3" Fluid Inlet Size

¾" Fluid Outlet Size

5.75' or 69" Overall Height

2" Overall Width
QUALITY AES - AN AUTHORIZED GRACO DEALER

Headquartered just outside of Kansas City, Quality Automotive Equipment & Service is an authorized dealer for the entire Graco product line for the Midwest.
Whether your shop needs equipment, sales, service, training, or installation, regardless of the equipment you seek, Quality AES has been helping small shops and large dealerships with their automotive needs for decades.
If your shop is looking for oil, coolant or antifreeze fluid evacuation systems and drains, give the team at Quality a call at 913-205-1350 or if you prefer,
ask us your questions here
.
Features of Graco's Oil King Fluid Drain
Filter Drain Tray – Allows you to drain separately from the collection pan.

Large Collection Pan – Equipped with a filter, the funnel can be raised to a 72"

Large 25 Gallon Capacity Receiver – Built to last, its dent, rust, and corrosion resistant

Two Evacuation Ports – A gravity fed drain at the bottom or suction evacuation at the top

Convenient Tool Tray – Used for filters, wrenches, and rags necessary for the job

Liquid Site Gauge – Know where your fluid levels are with a full-length level sight gauge

Oversized Tires and Push-Pull Handle – Built for maneuverability and portability

Black in Color

3" Fluid Inlet Size

¾" Fluid Outlet Size

5.75' or 69" Overall Height

2" Overall Width