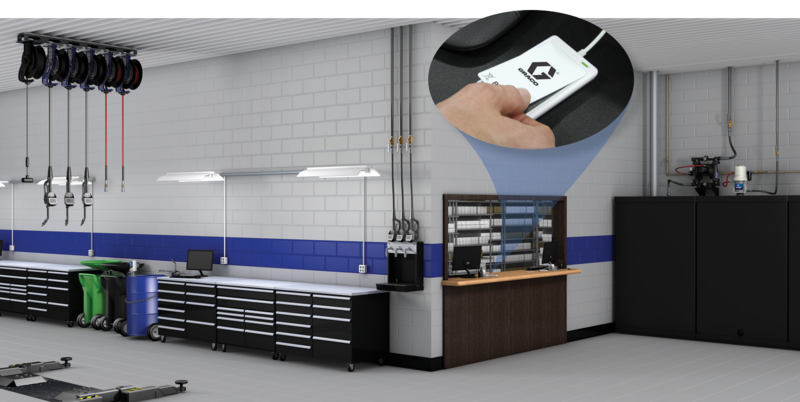 Unique Benefits of Graco Fluid Control Management System
Simple wireless configuration reduces installation costs and eliminates manual tracking

Know how much, where and by whom fluid is dispensed improving inventory management

Control fluid dispensing per technician and reduce the risk of overpours

Make more informed decisions with simple reporting tools

As your demands grow, add fluids, or dispense points seamlessly

Easily upgrade to Graco's Pulse Pro for more management, analytics and DMS integration
Graco Pulse Fluid Control
Bulk Fluid Management System
BULK FLUID MANAGEMENT AND CONTROL


Graco uses advanced technology as a leading manufacturer in bulk fluid management systems for large scale service shops. Whether your shop services cars, trucks, fleets, or heavy equipment, knowing your precise fluid consumption along with re-ordering automation are indespensible.
Graco's Pulse FC is a fluid control system that helps save money and time by holding your service team accountable for fluid that is dispensed throughout the day. The Pulse FC automates and regulates fluid dispenses with accuracy on command.
Knowing precise usage levels and how much fluid each technician can dispense using Graco's patented fluid cards, is something new to the automotive world. It used to be levels were manually checked, eating away at countless hours of wasted movement and decreased productivity.
Today, Graco and its unique line of fluid management products, helps maintain accurate inventory, reduces overpours, and streamlines the process wirelessly.
Having a system that's simple to use and holds your fluid inventory and team accountable helps with insight and control of your operation. The Graco Fluid Control System also allows for mobility pairing, giving your service team the ability to see where fluid usage levels are at any given time from a mobile device.
Unique Benefits of Graco Fluid Control Management System
Simple wireless configuration reduces installation costs and eliminates manual tracking

Know how much, where and by whom fluid is dispensed improving inventory management

Control fluid dispensing per technician and reduce the risk of overpours

Make more informed decisions with simple reporting tools

As your demands grow, add fluids, or dispense points seamlessly

Easily upgrade to Graco's Pulse Pro for more management, analytics and DMS integration
CHOOSING QUALITY AES FOR BULK FLUID MANAGEMENT
Quality Automotive Equipment & Service is an authorized dealer for Graco's bulk fluid management systems and products. Located, in the heart of the country, near Kansas City, Quality AES is the Midwest's leader for automotive equipment sales, installation, equipment maintenance, and service.
We encourage you to visit our
about page
, meet
our team
, and browse
our products
to learn more about Quality AES. If you have a question regarding the Graco product line, give us a call at 913-205-1350 or
drop us a line here.
We look forward to servicing your automotive shop!
Unique Benefits of Graco Fluid Control Management System
Simple wireless configuration reduces installation costs and eliminates manual tracking

Know how much, where and by whom fluid is dispensed improving inventory management

Control fluid dispensing per technician and reduce the risk of overpours

Make more informed decisions with simple reporting tools

As your demands grow, add fluids, or dispense points seamlessly

Easily upgrade to Graco's Pulse Pro for more management, analytics and DMS integration