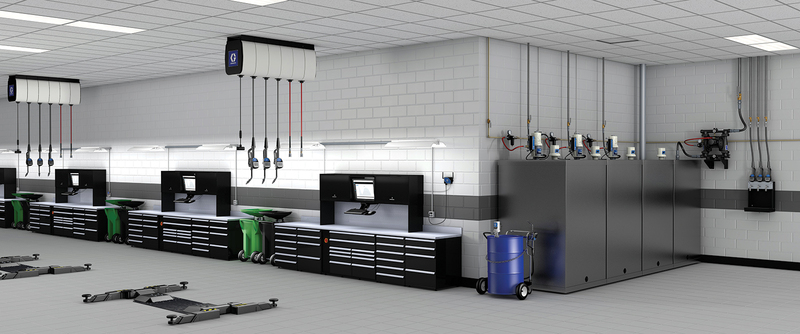 Unique Benefits of Graco Pulse Pro Fluid Management System
Fast and simple wireless configuration reduces installation costs and eliminates PC connection

Improve inventory management by knowing how much, where and by whom fluid is dispensed

Make more informed decisions by generating customized and automated reporting tools

Improve billing accuracy by pairing every dispense directly with a work order

Stay in control with your oil consumption and demand by adding new components seamlessly

Keep your departments connected with information through seamless DMS integration
Graco Pulse Pro
Bulk Fluid Management System
FLUID CONSUMPTION AND MANAGEMENT
Graco, a leader in bulk fluid management systems, provide auto service shops the right tools to help you monitor day-to-day fluid consumption and ultimately, help improve your fluid inventory control.
Whether you are working on cars, trucks, or heavy equipment, it's important to track your how much consumption you have. Graco is the go-to manufacturer for bulk fluid management in the automotive industry. One big reason is because they offer a wire-free and computer-based solution that helps you manage and order the right amount of fluids at the right time effortlessly.
Trying to manage your shops fluid consumption by paper is a near impossible task and outdated. Not only does it cost your service department money trying to monitor things this way, it also increases time away from what's most important to your shop, turning more service jobs.
See this video and hear from other fixed ops managers trying to manage fluid consumption manually.
Graco offers a unique line of fluid management products that provide insight, control, and analytics to simplify the decision-making process. The Pulse Pro is an innovative management system for vehicle and fleet service that makes life easier managing oil, diesel, waste oil, transmission fluid, anti-freeze, gasoline and DEF needs.
The Pulse Pro saves money. Want to see how? Take a look at this Fluid Management ROI Calculator to see how your shop is doing firsthand.
Unique Benefits of Graco Pulse Pro Fluid Management System
Fast and simple wireless configuration reduces installation costs and eliminates PC connection

Improve inventory management by knowing how much, where and by whom fluid is dispensed

Make more informed decisions by generating customized and automated reporting tools

Improve billing accuracy by pairing every dispense directly with a work order

Stay in control with your fluid consumption and demand by adding new components seamlessly

Keep your departments connected with information through seamless DMS integration
BULK FLUID MANAGEMENT AND QUALITY AES
Regardless of where your dealership is located, it's good to have a team in your corner that understands Graco bulk fluid management systems. Quality Automotive Equipment & Service is an authorized dealer for Graco products and can help.
Whether we are answering your Graco questions or installing a new Graco fluid management system for your service shop, Quality AES is a good place to start the process. Give us a call at 913-205-1350 or
drop us a line
and see how we can help increase your productivity while decreasing the headaches of manually monitoring your fluid needs.
Unique Benefits of Graco Pulse Pro Fluid Management System
Fast and simple wireless configuration reduces installation costs and eliminates PC connection

Improve inventory management by knowing how much, where and by whom fluid is dispensed

Make more informed decisions by generating customized and automated reporting tools

Improve billing accuracy by pairing every dispense directly with a work order

Stay in control with your oil consumption and demand by adding new components seamlessly

Keep your departments connected with information through seamless DMS integration