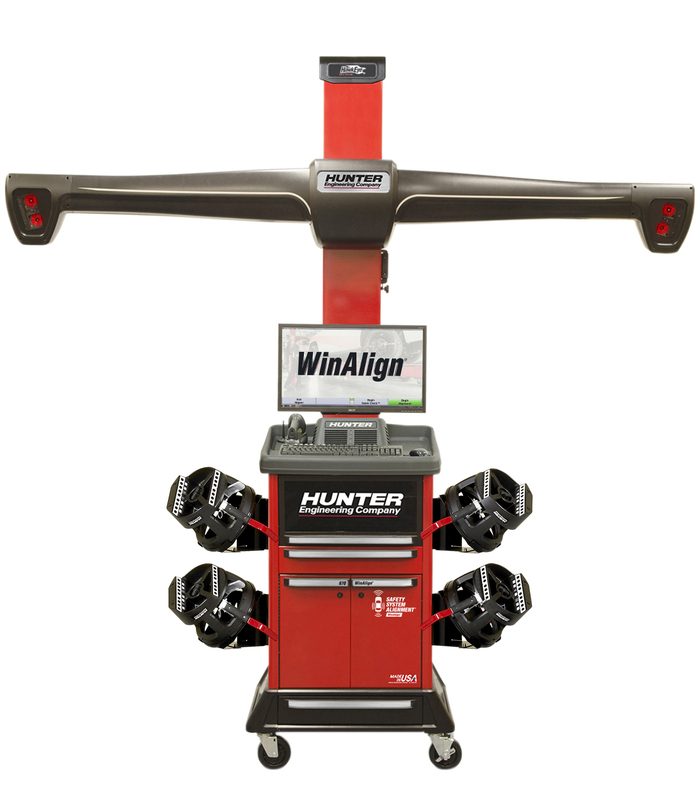 QuickComp - Compensate all wheels and capture measurements in one motion

New Console Design - Integrated storage and charging for accessories

High Resolution Cameras - Four high-res cameras provide measurements with accuracy

Fast Recall Specs - Recall OE Specs and vehicle alignment procedures instantly

Steering System Reset Integration - One simple tool for resetting steering systems

Faster Caster - Increases speed, reduces battery drain from brake light draw and saves time

Revolutionary and Superior Design - Lighter, narrower, faster setups & readings

QuickGrip Wheel Adaptor - Spring-loaded arms to grip the tire reducing rim damage
Hunter HawkEye Elite
Wheel Alignment System
Hunter Engineering's HawkEye Elite wheel alignment system matches productivity to profit enhancing power for your shop. With alignment results in 70 seconds, the HawkEye Elite uses unmatched software that provides super accurate results with built-in support for safety and OEM required resets.
The HawkEye Elite allows a shop to easily sell more services by showing customers the transparency with simple printouts customers can understand. In addition, it requires only minimal setup time with one trip around the vehicle needed, allowing your technicians faster alignments.
The patented and revolutionary adaptor design allows for faster setups, no metal-to-metal contact and no knob twisting while the target design is lighter, narrower and produces faster readings.

Hunter's HawkEye Elite alignment system has numerous features like:
QuickComp - Compensate all wheels and capture measurements in one motion

New Console Design - Integrated storage and charging for accessories

High Resolution Cameras - Four high-res cameras provide measurements with accuracy

Fast Recall Specs - Recall OE Specs and vehicle alignment procedures instantly

Steering System Reset Integration - One simple tool for resetting steering systems

Faster Caster - Increases speed, reduces battery drain from brake light draw and saves time

Revolutionary and Superior Design - Lighter, narrower, faster setups & readings

QuickGrip Wheel Adaptor - Spring-loaded arms to grip the tire reducing rim damage
Say goodbye to wasted shop time and obsolete wheel alignment machines by adding the HawkEye Elite wheel alignment system to your shop today. Quality Automotive Equipment & Service, your local Hunter dealer, is available to answer any of your questions relating to Hunter automotive equipment. Contact us here or give us a call at 913-205-1350.
QuickComp - Compensate all wheels and capture measurements in one motion

New Console Design - Integrated storage and charging for accessories

High Resolution Cameras - Four high-res cameras provide measurements with accuracy

Fast Recall Specs - Recall OE Specs and vehicle alignment procedures instantly

Steering System Reset Integration - One simple tool for resetting steering systems

Faster Caster - Increases speed, reduces battery drain from brake light draw and saves time

Revolutionary and Superior Design - Lighter, narrower, faster setups & readings

QuickGrip Wheel Adaptor - Spring-loaded arms to grip the tire reducing rim damage