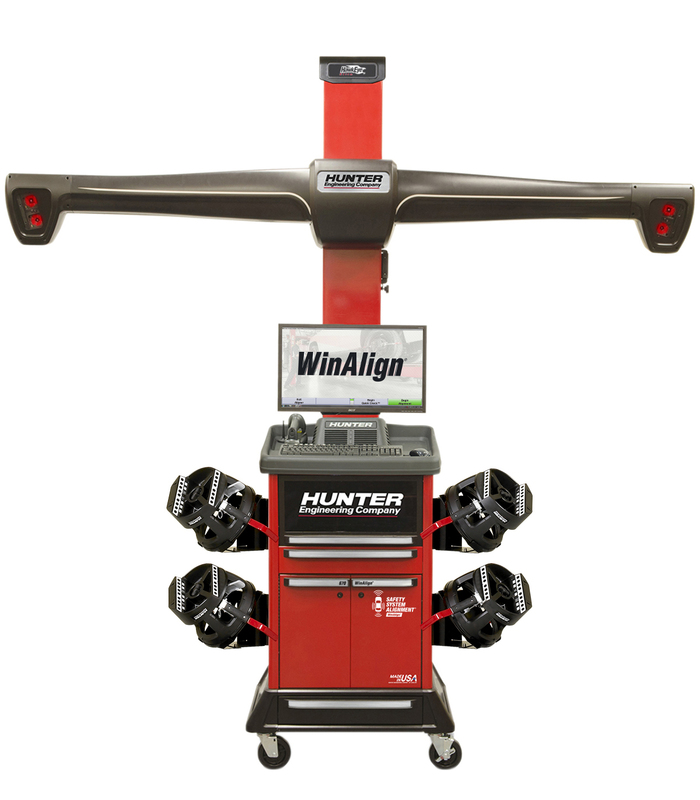 Award Winning WinAlign Software - Extensive vehicle database with vehicle specific procedures

High-Resolution Cameras - Provides alignment measurements with pinpoint accuracy

Recall OE Specs - Vechicle specific alignment procedures with ultra quick recall on specs

Patented Ingegrated Steering System - Resets computerized steering systems with one simple tool

Automatic Tire Pressure System - Set and record tire pressure without any hoses and guages

Patented Lock-Pin System - Hassle free with no need to pull and replace lock pins manually

ExpressAlign - Streamlined system that analyzes each job and provides minimal next steps

WinToe - Ensures a straight steering wheel everytime without adjusting or using a wheel holder

Shim-Select II - Quickly calculate and displays temlate needed for proper shim installation

Wheel-Off Adjustment - Make adjustments and speed alignment process while wheel is removed

Virtual View - See your alignment job in 3-D graphics with Hunter's patented Virtual View
Hunter HawkEye
Alignment System
Hunter Engineering offers a simple alignment system called, HawkEye, which gets fast results with quick setup time and a low cost to the shop. Using HawkEye imaging technology, this alignment machine gets quick alignment readings using powerful software.
Combining the console, sensors and lift along with a fully integrated software called WinAlign, Hunters HawkEye alignment system is a highly efficient machine and saves time by simplifying processes.

The Hawkeye alignment system will ask you to first, select the vehicle using the VIN. The second step allows you to capture measurements in 40 seconds by easily installing targets. The third and final step is to follow the adjustment instructions and simply make your adjustments. Upon completion, you are provided a print out that shows the results ultimately helping sell more alignments and generate greater profits for the business.
By using four high resolution cameras that provide pinpoint accuracy on alignment measurements and an intuitive software that guides you through every adjustment, this system saves, on average, 6 minutes per alignment versus other conventional electronic sensor systems.
Some of the features included in the HawkEye alignment system include:
Award Winning WinAlign Software - Extensive vehicle database with vehicle specific procedures

High-Resolution Cameras - Provides alignment measurements with pinpoint accuracy

Recall OE Specs - Vehicle specific alignment procedures with ultra-quick recall on specs

Patented Ingegrated Steering System - Resets computerized steering systems in one simple tool

Automatic Tire Pressure System - Set and record tire pressure without any hoses and guages

Patented Lock-Pin System - Hassle free with no need to pull and replace lock pins manually

ExpressAlign - Streamlined system that analyzes each job and provides minimal next steps

WinToe - Ensures a straight steering wheel everytime without adjusting or using a wheel holder

Shim-Select II - Quickly calculate and displays temlate needed for proper shim installation

Wheel-Off Adjustment - Make adjustments and speed alignment process while wheel is removed

Virtual View - See your alignment job in 3-D graphics with Hunter's patented Virtual View
Whether your shop needs a standard alignment system or a more elite machine, the team at Quality Automotive Equipment & Service, through their dealer partnership with Hunter, can provide the insight, knowledge and expertise to align your shop with the right system installation.
Award Winning WinAlign Software - Extensive vehicle database with vehicle specific procedures

High-Resolution Cameras - Provides alignment measurements with pinpoint accuracy

Recall OE Specs - Vechicle specific alignment procedures with ultra quick recall on specs

Patented Ingegrated Steering System - Resets computerized steering systems with one simple tool

Automatic Tire Pressure System - Set and record tire pressure without any hoses and guages

Patented Lock-Pin System - Hassle free with no need to pull and replace lock pins manually

ExpressAlign - Streamlined system that analyzes each job and provides minimal next steps

WinToe - Ensures a straight steering wheel everytime without adjusting or using a wheel holder

Shim-Select II - Quickly calculate and displays temlate needed for proper shim installation

Wheel-Off Adjustment - Make adjustments and speed alignment process while wheel is removed

Virtual View - See your alignment job in 3-D graphics with Hunter's patented Virtual View