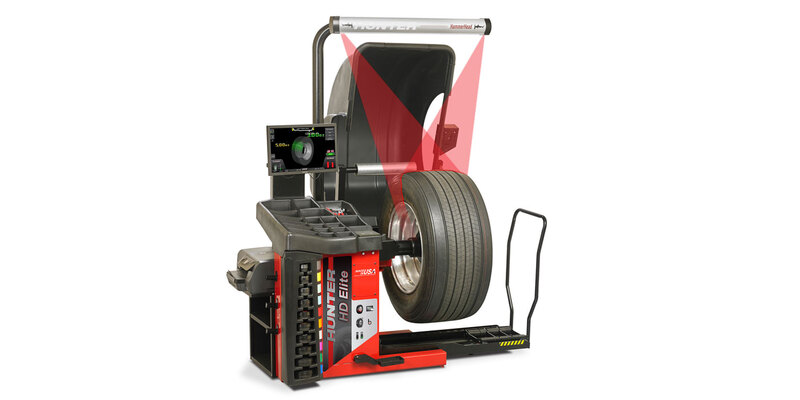 Fast Unmatched Speed - Measure runout and balancer faster than any traditional balancer

500 lb. Assemblies - wheel lift assists up to 500 lb assemblies for proper mounting

Laser Vision System - Provides information fast and in less time while eliminating user error

Automatic CenteringCheck - Ensures proper centering and eliminates setup errors

eCal Auto-Calibration - True self-calibration with no operator input required

Enhanced SmartWeight - Better balance, maximum efficiency and more single weight solution

Balances Any Size Wheel - Services cars, light trucks and uses standard adaptors

Eliminates Wheel Vibration and Increases Tire Life - Specialized sensors and match-mounting

SmartWeight Reduces Labor Costs - Minimizes weight usage and increases productivity

Elite Vision Technology - Automatically measures wheel dimensions and rim runout

Diagnostic Load Roller (Optional) - Detects tire high spot, allows matching and accurate results
Hunter HD Elite
Wheel Balancer
Hunter Engineering's HD Elite Balancer is the world's #1 heavy-duty diagnostic wheel balancer. Made in the USA, this heavy-duty wheel balancer quickly measures runout with every balance in unmatched speed.
Faster than any other traditional balancer, the HD Elite balancer helps eliminate wheel related vibration and increases tire life.
Your technicians will enjoy the patented laser vision system on the HD Elite balancer which eliminates user error and provides more information in less time. In addition, the eCal auto-calibration system provides a true self-calibration with no operator input required while the touchscreen interface is intuitive and can help quickly train new technicians on the fly.
Here are the many features of the HD Elite wheel balancer by Hunter Engineering:
Fast Unmatched Speed - Measure runout and balancer faster than any traditional balancer

500 lb. Assemblies - wheel lift assists up to 500 lb. assemblies for proper mounting

Laser Vision System - Provides information fast and in less time while eliminating user error

Automatic CenteringCheck - Ensures proper centering and eliminates setup errors

eCal Auto-Calibration - True self-calibration with no operator input required

Enhanced SmartWeight - Better balance, maximum efficiency and more single weight solution

Balances Any Size Wheel - Services cars, light trucks and uses standard adaptors

Eliminates Wheel Vibration and Increases Tire Life - Specialized sensors and match-mounting

SmartWeight Reduces Labor Costs - Minimizes weight usage and increases productivity

Elite Vision Technology - Automatically measures wheel dimensions and rim runout

Diagnostic Load Roller (Optional) - Detects tire high spot, allows matching and accurate results

If your shop needs a heavy-duty tire changer and is considering a Hunter Engineering product, look no further than the Midwest's leading authorized Hunter dealer, Quality Automotive Equipment & Service. Our team can provide sales, financing, service and installation on most all Hunter specialized automotive equipment. Feel free to ask us your questions here or if you'd prefer, reach out to us at 913-205-1350.
Fast Unmatched Speed - Measure runout and balancer faster than any traditional balancer

500 lb. Assemblies - wheel lift assists up to 500 lb assemblies for proper mounting

Laser Vision System - Provides information fast and in less time while eliminating user error

Automatic CenteringCheck - Ensures proper centering and eliminates setup errors

eCal Auto-Calibration - True self-calibration with no operator input required

Enhanced SmartWeight - Better balance, maximum efficiency and more single weight solution

Balances Any Size Wheel - Services cars, light trucks and uses standard adaptors

Eliminates Wheel Vibration and Increases Tire Life - Specialized sensors and match-mounting

SmartWeight Reduces Labor Costs - Minimizes weight usage and increases productivity

Elite Vision Technology - Automatically measures wheel dimensions and rim runout

Diagnostic Load Roller (Optional) - Detects tire high spot, allows matching and accurate results