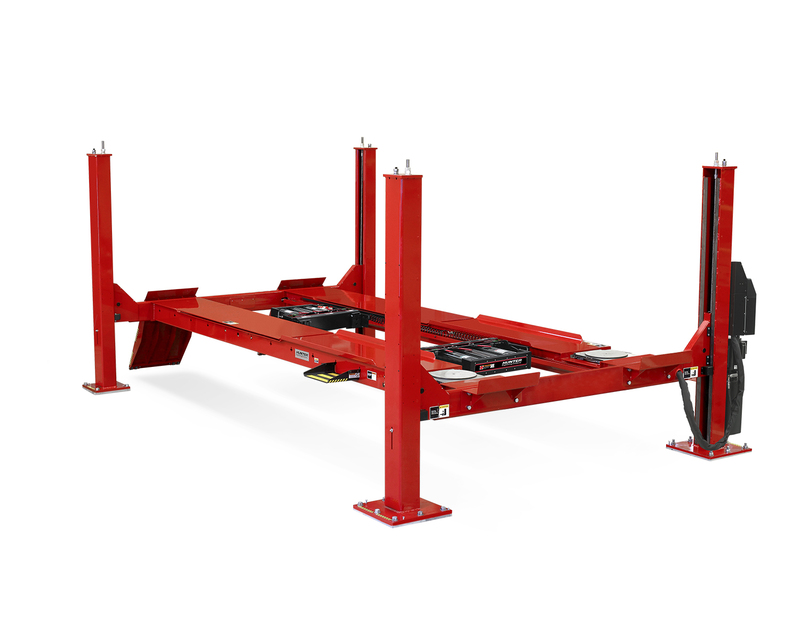 18,000 lb Capacity

26" Runways up to 92" Wide

2 X 9,000 lb Swing Air Jacks

177" 2-Wheel Alignment Wheelbase

Closed Front Beam

Powerslide and Inflation Station Capable

Integrated Controls

75" Max Raise Height


88" to 158" Built-In Slipplates for 4-wheel alignment

Stainless Steel Turnplate Design

Fully Integrated Alignment
Hunter L454 & L454L
4-Post 18K Alignment Rack
Hunter Engineering has your shop covered when it comes to a four-post lift. Built for heavy lifting and high production, the L454 and L454L 4-Post Alignment Racks are an easy to use closed-front lift set-up that helps make alignments for large trucks easy.
With a closed front beam and an 18,000 lb capacity, the L454 and L454L lift racks offer both long and standard-length runway racks. Both 4-post lifts have 16 height lock positions to allow your technician to work comfortably and while the L454 services a max wheel base of 193" the L454L can general service up to 227".
Both the L454 and L454L racks are Powerslide capable which reduce trips around the vehicle and provides protection from wear and tear on turnplates. These lifts can also utilize Hunter's Inflation Station which allows for simultaneous tire inflation for all four tires at the same time.
Hunter L454 and L454L 4-post lift features include:
18,000 lb Capacity

26" Runways up to 92" Wide

2 X 9,000 lb Swing Air Jacks

177" 2-Wheel Alignment Wheelbase

Closed Front Beam

Powerslide and Inflation Station Capable

Integrated Controls

75" Max Raise Height


88" to 158" Built-In Slipplates for 4-wheel alignment

Stainless Steel Turnplate Design

Fully Integrated Alignment
Choose Quality Automotive Equipment & Service for your 4 post alignment lift needs. As one of only a few authorized dealers for Hunter Engineering in the Midwest, Quality AES can help your shop order equipment, install in person, service annually and inspect thoroughly. Give us a call at 913-205-1350 or ask us any lift questions you have here. We look forward to speaking with you.
18,000 lb Capacity

26" Runways up to 92" Wide

2 X 9,000 lb Swing Air Jacks

177" 2-Wheel Alignment Wheelbase

Closed Front Beam

Powerslide and Inflation Station Capable

Integrated Controls

75" Max Raise Height


88" to 158" Built-In Slipplates for 4-wheel alignment

Stainless Steel Turnplate Design

Fully Integrated Alignment