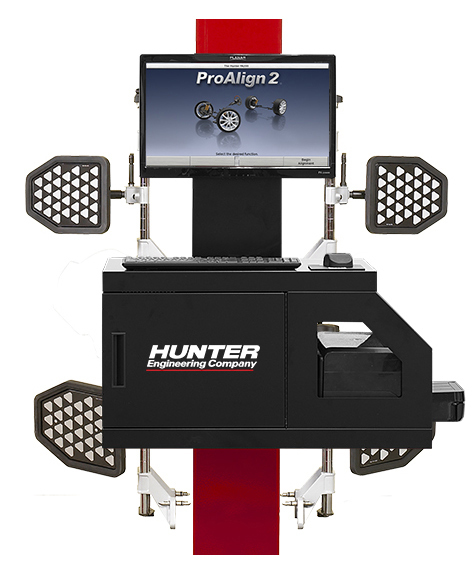 WinToe - Saves time and provides a straight steering wheel every time without adjustments

High Resolution Cameras - Two cameras provide pinpoint accuracy and alignment measurements

Control Arm Monitor - Cut adjustment times in half for front-shim, dual-cam or dual-slot vehicles

Shim-Select II - Quickly calculate and eliminate confusing shim charts and tables

OEM Adjustment Instructions - Over 500 adjustment diagrams and instructional illustrations

HawkEye Digital Imaging Technology - Allows alignments to perform on floor or at any height

Fully Integrated Alignment - Increase speed & efficiency from rack communicating with sensors

Intuitive Software - Easy to follow instructions and illustrations on screen
Hunter ProAlign
Alignment System
The ProAlign alignment systems, by Hunter, are optimized for speed and efficiency. Like the HawkEye alignment system, the ProAlign allows for measurements in just minutes with three easy steps.
First, select your vehicle using the alignment systems vehicle database. Secondly, install your targets and capture measurements and angles. Lastly, follow the on screen adjustment instructions and make your adjustments. You can print your before and after results immediately and share with your customers, generating more alignments and greater profits over time.
Utilizing much of the same intuitive software and imaging technology, the major difference between the HawkEye and the ProAlign is the ProAlign uses two camera systems or a traditional wheel-mounted sensor versus four in the HawkEye product.
One of the more attractive values that the ProAlign alignment system allows for is its reduction in long-term cost of ownership. Requiring virtually no maintenance, electronics at the wheel, cables, batteries or calibration, the reflective wheel targets allow for limited downtime due to accidental drops. The self-centering adaptors easily handle wheels between 10 and 24.5 inches (28 in. opitons with extensions).
Here are a few of the features with the ProAlign alignment sytems:
WinToe - Saves time and provides a straight steering wheel every time without adjustments

High Resolution Cameras - Two cameras provide pinpoint accuracy and alignment measurements

Control Arm Monitor - Cut adjustment times in half for front-shim, dual-cam or dual-slot vehicles

Shim-Select II - Quickly calculate and eliminate confusing shim charts and tables

OEM Adjustment Instructions - Over 500 adjustment diagrams and instructional illustrations

HawkEye Digital Imaging Technology - Allows alignments to perform on floor or at any height

Fully Integrated Alignment - Increase speed & efficiency from rack communicating with sensors

Intuitive Software - Easy to follow instructions and illustrations on screen
The ProAlign alignment system comes with three camera configurations, the Pronto, the Pronto II and the Pronto III, all of which have ProAlign software, high definition targets, 24-in. LCD display, a console and sensors.
Ask your team at Quality Automotive Equipment and Service to help you get a better understanding of the Hunter alignment systems and their unique capabilities. We are available by phone at 913-205-1350 or we can help answer any questions you have directly here. We are happy to help where we can and look forward to speaking with you!
WinToe - Saves time and provides a straight steering wheel every time without adjustments

High Resolution Cameras - Two cameras provide pinpoint accuracy and alignment measurements

Control Arm Monitor - Cut adjustment times in half for front-shim, dual-cam or dual-slot vehicles

Shim-Select II - Quickly calculate and eliminate confusing shim charts and tables

OEM Adjustment Instructions - Over 500 adjustment diagrams and instructional illustrations

HawkEye Digital Imaging Technology - Allows alignments to perform on floor or at any height

Fully Integrated Alignment - Increase speed & efficiency from rack communicating with sensors

Intuitive Software - Easy to follow instructions and illustrations on screen