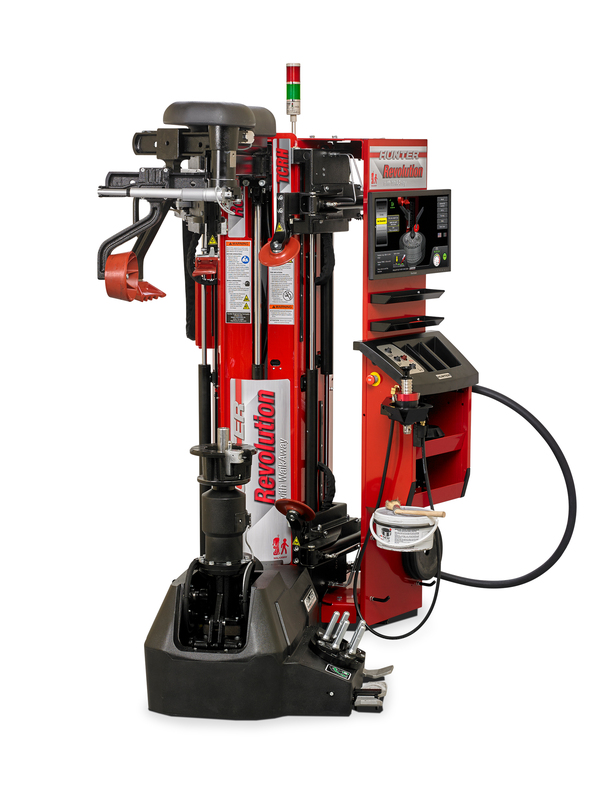 Fully Automatic - Operator experience no longer a factor

Leverless Tool Head - Demounts without levers and prevents damage to tire and rim

GO Pedal Controls - Press Go to make selection and hold Go to advance automatically

Space Saving Wheel Lift - Spindle lifts directly into position

Powered Press Arms - Mount virtually any tire

Animations & Videos - Animations and video training for technicians

Safety - From inflation, position, levers, clamping, wheel lift, TPMS, tire and wheel safety
Hunter Revolution
Fully Automatic Tire Changer
The Revolution™ tire changer machine is one-of-a-kind. The fully automatic tire changer is the easiest to use in the industry, and recognized as the 2015 Motor Magazine Top 20 Tools Awards, as well as a PTEN Innovation Award and PTEN Innovation Award's People' Choice Award in 2014.

Featuring a space-saving wheel lift, "Go" pedal, and powered press arms, the Revolution automatic tire changer machine is equipped with everything you need to effortlessly service vehicles automatically.

The semi-autonomous WalkAway mode frees the operator to perform other tasks by providing a 4-step tire changeover when paired with wheel balancing that cutts overall operator time by 25%. All the operator needs to do is mount & clamp the tire, then the machine performs the bead breaking and demounting. Once completed, the technician mounts the tire and the process is finished.

The Revolution™ features include:
Fully Automatic - Operator experience no longer a factor

Lever Less Tool Head - Demounts without levers, prevents damage to tire and rim

GO Pedal Controls - Press Go for selection and hold Go to advance automatically

Space Saving Wheel Lift - Spindle lifts directly into position

Powered Press Arms - Mount virtually any tire

Animations & Videos - Animations and video training for technicians

Safety - Inflation, position, levers, clamping, wheel lift, TPMS, tire and wheel safety
Step up to the Revolution™ fully automatic tire changer, and add the convenience and superiority of Hunter Engineering products to your shop. Call Quality Automotive Equipment & Service at 913-205-1350 for all of your Hunter tire machine needs. We can help you identify the perfect tire changer, install and train your staff on how to operate at maximum effeciency. Let us know if you'd prefer to ask us your question here.
Fully Automatic - Operator experience no longer a factor

Leverless Tool Head - Demounts without levers and prevents damage to tire and rim

GO Pedal Controls - Press Go to make selection and hold Go to advance automatically

Space Saving Wheel Lift - Spindle lifts directly into position

Powered Press Arms - Mount virtually any tire

Animations & Videos - Animations and video training for technicians

Safety - From inflation, position, levers, clamping, wheel lift, TPMS, tire and wheel safety