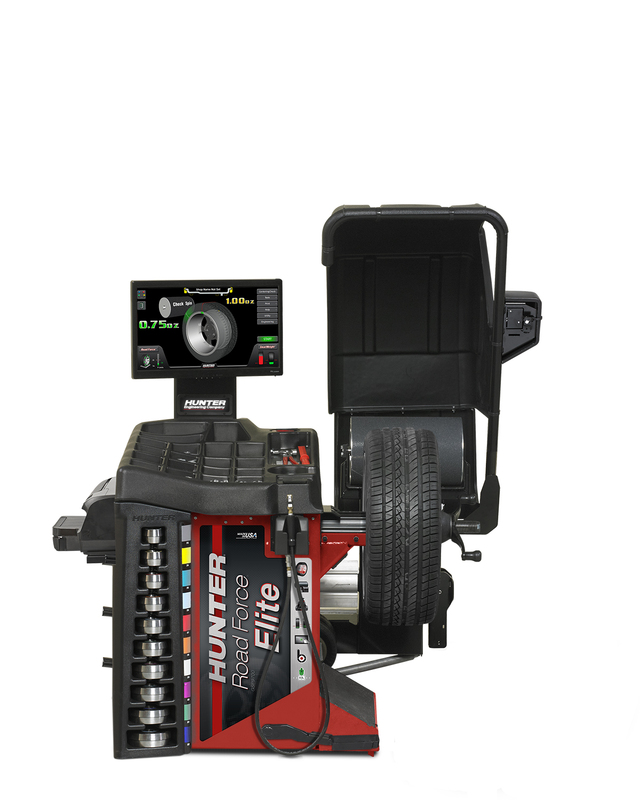 Wheel Dimensions (Automatic) - Automatically determins weight plane locations

Weight Mode (Automatic) - Selects clip or tape weight usage

Spoke Location (Automatic) - Automatically hides tape weights behind spokes

Rim Profiled (Automatic) - Creates three dimensional model of the rim

SmartWeight Optimized (Automatic) - Allows more single weight solutions

Rim Runout (Automatic) - Calculates force-match solution

Road Force (Automatic)

Tire Pull (Automatic)

Forcematch Prediction (Automatic)

Guided Balance (Automatic)
Hunter Road Force Elite
Tire Balancer
Hunter Engineering provides an elite series of wheel balancers to choose from. All of them are built to help solve vibration problems for wheels in your shop.

The Road Force® Elite diagnostic wheel balancer delivers exceptional balancing service and performs a Road Force® balance faster than a traditional wheel balance, roughly two minutes faster. The Road Force® Elite solves wheel vibration problems that traditional wheel balancers can't fix.
A standard balancer typically has manual operations and doesn't include all the bells and whistles a Road Force® Elite wheel balancer has. For example, the following automatic features come standard with the Road Force Elite wheel balancer:
Wheel Dimensions (Automatic) - Automatically determins weight plane locations

Weight Mode (Automatic) - Selects clip or tape weight usage

Spoke Location (Automatic) - Automatically hides tape weights behind spokes

Rim Profiled (Automatic) - Creates three dimensional model of the rim

SmartWeight Optimized (Automatic) - Allows more single weight solutions

Rim Runout (Automatic) - Calculates force-match solution

Road Force (Automatic)

Tire Pull (Automatic)

Forcematch Prediction (Automatic)

Guided Balance (Automatic)
The
Road Force® Elite
is a diagnostic wheel balancer machine that detects non-balance, radial-force related problems associated with tire uniformity, tire and rim runout, wheel to balancer mounting errors and improper bead seat of tire to rim.
The floor to floor diagnostic wheel balance process with the Road Force® Elite wheel balancer is 70 seconds. The average comebacks avoided in a given year is 66 utilizing the SmartWeight technology. While 24 OEM's approve or require it in their facilities, we welcome you to schedule a free demo with our team of Hunter certified specialists at Quality Automotive Equipment & Service.
As an authorized dealer with Hunter Engineering, Quality Automotive Equipment & Service can help you and your shop identify the proper tire balancer, install it and train your technicians. Give the team at Quality AES a call at 913-205-1350 for a free estimate or if you'd prefer, you can ask us your questions here first.
Wheel Dimensions (Automatic) - Automatically determins weight plane locations

Weight Mode (Automatic) - Selects clip or tape weight usage

Spoke Location (Automatic) - Automatically hides tape weights behind spokes

Rim Profiled (Automatic) - Creates three dimensional model of the rim

SmartWeight Optimized (Automatic) - Allows more single weight solutions

Rim Runout (Automatic) - Calculates force-match solution

Road Force (Automatic)

Tire Pull (Automatic)

Forcematch Prediction (Automatic)

Guided Balance (Automatic)