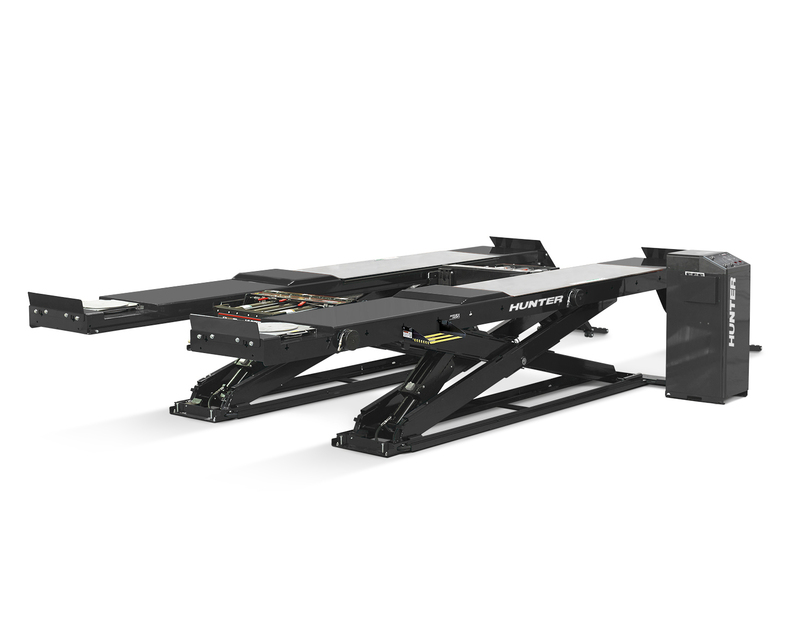 14,000 lb Capacity

2 X 9,000 lb Capacity Jacks

Max 182" 2-Wheel Alignment Wheelbase

Max 158" 4-Wheel Alignment Wheelbase

10.75" Low Drive On Height

26" Runways - Accepts wide, heavy vehicles

72" Maximum High Raise Height

Surface Mount Only
PowerSlide and Inflation Station Capable
Swing Air Jack Equipped

Stainless Steel Turnplates


Louvered Approach Ramps and Fast Decent

Sixteen Position Locks and Built-In Slip Plates

Hydraulic Fuses
Hunter RX14
Scissor Lift Alignment Rack
Hunter Engineering's RX14 Scissor Alignment Rack is a new low profile high capacity lift that is updated. Featuring new exclusive and patented, as well as optional additions, the RX14 has all the functionality technicians need in scissor alignment lifts.
With a capacity of 14,000 lbs., the RX14 comes with 2 X 9,000 lb. capacity jacks and a 182" 2-wheel alignment wheelbase, this lift rack can take on some of your more challenging makes and models. This scissor lift offers PowerSlide and Inflation Station capability and is a surface mount only lift rack.
The RX14 comes in three models; the RX14K, the RX14KPS and the RX14KIS, each with specific capabilities that help tailor the perfect alignment rack for your team of technicians and shop's needs.
Hunter's RX 14 Scissor Alignment Rack has the following features:
14,000 lb Capacity

2 X 9,000 lb Capacity Jacks

Max 182" 2-Wheel Alignment Wheelbase

Max 158" 4-Wheel Alignment Wheelbase

10.75" Low Drive On Height

26" Runways - Accepts wide, heavy vehicles

72" Maximum High Raise Height

Surface Mount Only
PowerSlide and Inflation Station Capable
Swing Air Jack Equipped

Stainless Steel Turnplates


Louvered Approach Ramps and Fast Decent

Sixteen Position Locks and Built-In Slip Plates

Hydraulic Fuses
Quality Automotive Equipment & Service, an authorized dealer for Hunter Engineering equipment, is the Midwest's go to automotive equipment supplier. With certified Hunter lift installers, our team provide parts, service, shipping, installation and inspection on all Hunter lift rack models. Give our team a call at 913-205-1350 and learn how we help all types of service shops or if you prefer to send us a message, ask us your questions here.
14,000 lb Capacity

2 X 9,000 lb Capacity Jacks

Max 182" 2-Wheel Alignment Wheelbase

Max 158" 4-Wheel Alignment Wheelbase

10.75" Low Drive On Height

26" Runways - Accepts wide, heavy vehicles

72" Maximum High Raise Height

Surface Mount Only
PowerSlide and Inflation Station Capable
Swing Air Jack Equipped

Stainless Steel Turnplates


Louvered Approach Ramps and Fast Decent

Sixteen Position Locks and Built-In Slip Plates

Hydraulic Fuses