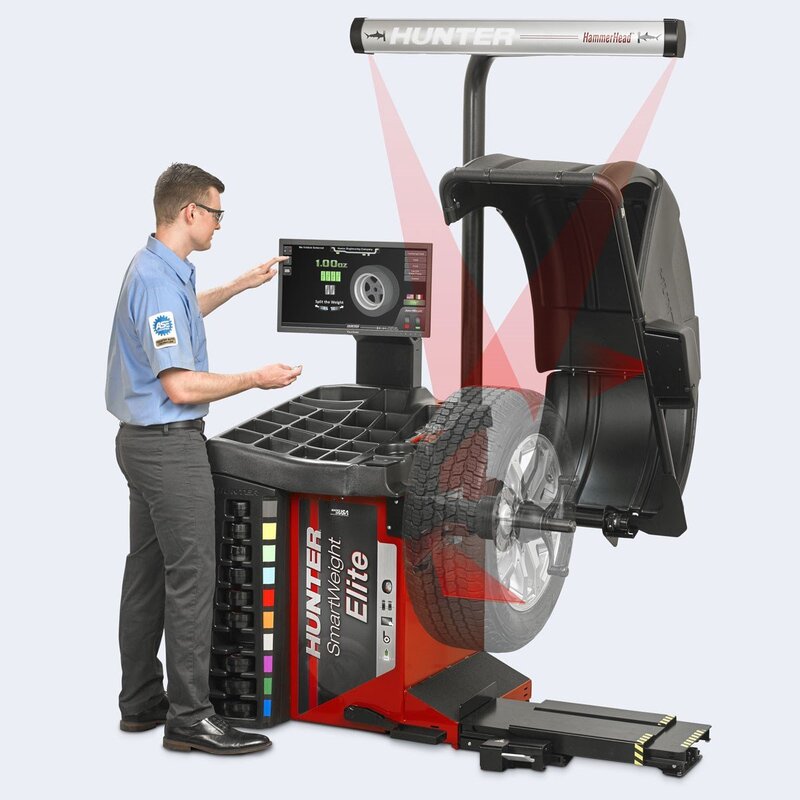 SmartWeight Technology - Improves balance, minimizes weight usage and maximizes productivity

Touchscreen Interface - Intuitive design with videos that help train new technicians quickly

eCal Auto-Calibration - True self-calibration with no operator input required

HammerHead Option = Illumiates the work area, improves balance and speeds clip-weight placement

TPMSpecs - Displays proper mounting adaptors, with 100+ TPMS reset procedures

On-Screen Instructions and Demand Videos - Simplify training and improve results

Bottom-Dead-Center Laser - Speeds tape-weigh placement and improves accuracy

CenteringCheck - Ensures proper centering and eliminates setup errors

Superior Alloy Shaft - Most durable in industry and ensures accurate balancing for years to come

Automatic Mode Detection - Eliminates the need to select the balance mode reducing time and errors
Hunter SmartWeight Elite
Tire Balancer
Hunter Engineering offers a high-capacity intuitive wheel balancer that offers premium, upscale features. The patented SmartWeight Elite tire balancer is the fastest floor-to-floor wheel balancer of its kind and is built to improve balance, minimize weight usage and maximize productivity.
Using a touchscreen interface and an intuitive design, the SmartWeight Elite quickly trains new technicians on the machine using high definition on-demand videos that ultimately provide instruction and improves results. This one touch interface displays rim dimensions and wheel balance conditions while TruWeight provides live navigation through selection and placement of wheel weights.
The SmartWeight Elite wheel balancer also uses a patented eCal auto-calibration that provides a true self-calibration with no operator input required. This feature, along with the interface, combine simplicity and effectiveness when balancing a tire with the SmartWeight Elite.
The SmartWeight Elite wheel balancer features include:
SmartWeight Technology - Improves balance, minimizes weight usage and maximizes productivity

Touchscreen Interface - Intuitive design with videos that help train new technicians quickly

eCal Auto-Calibration - True self-calibration with no operator input required

HammerHead Option = Improves balance and speeds clip-weight placement

TPMSpecs - Displays proper mounting adaptors, with 100+ TPMS reset procedures

On-Screen Instructions and Demand Videos - Simplify training and improve results

Bottom-Dead-Center Laser - Speeds tape-weigh placement and improves accuracy

CenteringCheck - Ensures proper centering and eliminates setup errors

Superior Alloy Shaft - Most durable in industry and ensures accurate balancing for years to come

Automatic Mode Detection - Eliminates errors and the need to select the balance mode
There are a number of different models with the SmartWeight Elite balancer that range in differences from ink jet printing and storage options to wheel lift, auto clamp and TDC laser system integration.
Let the team at Quality Automotive Equipment & Service help you choose the right tire balancer for your shop's needs. As an authorized dealer for Hunter Engineering, Quality AES can help train, install, and service all Hunter equipment. Send us a message with your questions or if you'd prefer to talk, you can contact us at 913-205-1350.
SmartWeight Technology - Improves balance, minimizes weight usage and maximizes productivity

Touchscreen Interface - Intuitive design with videos that help train new technicians quickly

eCal Auto-Calibration - True self-calibration with no operator input required

HammerHead Option = Illumiates the work area, improves balance and speeds clip-weight placement

TPMSpecs - Displays proper mounting adaptors, with 100+ TPMS reset procedures

On-Screen Instructions and Demand Videos - Simplify training and improve results

Bottom-Dead-Center Laser - Speeds tape-weigh placement and improves accuracy

CenteringCheck - Ensures proper centering and eliminates setup errors

Superior Alloy Shaft - Most durable in industry and ensures accurate balancing for years to come

Automatic Mode Detection - Eliminates the need to select the balance mode reducing time and errors