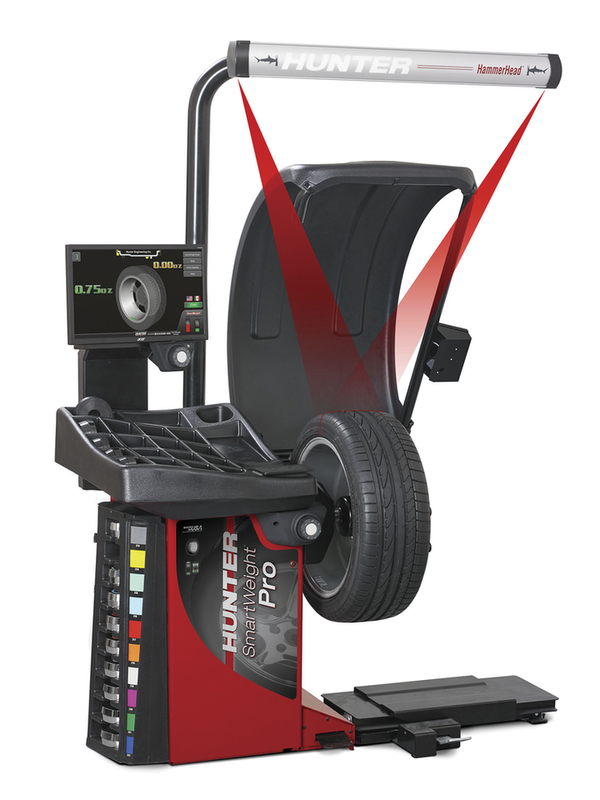 No-Touch Wheel Measurement - Durable and contactless wheel measurement with ergonomic design

SmartWeight Technology - Improves balance, maximizes productivity and minimizes weight usage

Single-Knob Interface - Intuitive navigation with 3D graphics simplifies technicians experience

Exact Position Laser - Identifies weight location and improves balance accuracy

Centering Check - Ensures proper centering and eliminates setup errors resulting in comebacks

Space Saving Design - Installs against a wall with a small format maximizing shop space

Single Weight Solution - Saves 60% of time versus traditional two-weight solutions

Tracks Labor & Weight Savings - Shown in minutes, hours and dollars with every spin
Hunter SmartWeight Pro
Tire Balancer
The SmartWeight Pro wheel balancer from Hunter Engineering is a state of the art balancing machine that provides benefits to both the technician and the shop. The pro version is intuitive and easy to use.
Utilizing a single knob navigation and 3D graphics, the SmartWeight Pro simplifies a technicians experience working with this machine by using an intuitive interface and ergonomic design. It also uses a no-touch wheel measurement that provides full wheel measurement without any contact, making it simple and more durable than Dataset arms.
The no-touch measurement makes balancing easier and comes standard on the SmartWeight Pro balancer. With an automatic laser vision system, the SmartWeight Pro helps easily determine exact weight placement and eliminates the most common causes of weight chasing.
Another big benefit of the SmartWeight Pro Wheel balancer is in its hood design. Built so that it can be installed against a wall, the small format and space-saving hood design helps maximize shop space.
Key features on Hunter's SmartWeight Pro Wheel Balancer includes:
No-Touch Wheel Measurement - Ergonomically designed with contactless wheel measurement

SmartWeight Technology - Improves balance, maximizes productivity and minimizes weight usage

Single-Knob Interface - Intuitive navigation with 3D graphics simplifies technicians experience

Exact Position Laser - Identifies weight location and improves balance accuracy

Centering Check - Ensures proper centering and eliminates setup errors resulting in comebacks

Space Saving Design - Installs against a wall with a small format maximizing shop space

Single Weight Solution - Saves 60% of time versus traditional two-weight solutions

Tracks Labor & Weight Savings - Shown in minutes, hours and dollars with every spin
The SmartWeight Pro Wheel Balancer by Hunter is sold through authorized dealers and distributors like Quality Automotive Equipment & Service. Our team is standing by to help you decide which wheel balancer makes the best option for your dealership or auto shop's installation needs. You can reach us at 913-205-1350 or send us a message if you prefer.
No-Touch Wheel Measurement - Durable and contactless wheel measurement with ergonomic design

SmartWeight Technology - Improves balance, maximizes productivity and minimizes weight usage

Single-Knob Interface - Intuitive navigation with 3D graphics simplifies technicians experience

Exact Position Laser - Identifies weight location and improves balance accuracy

Centering Check - Ensures proper centering and eliminates setup errors resulting in comebacks

Space Saving Design - Installs against a wall with a small format maximizing shop space

Single Weight Solution - Saves 60% of time versus traditional two-weight solutions

Tracks Labor & Weight Savings - Shown in minutes, hours and dollars with every spin