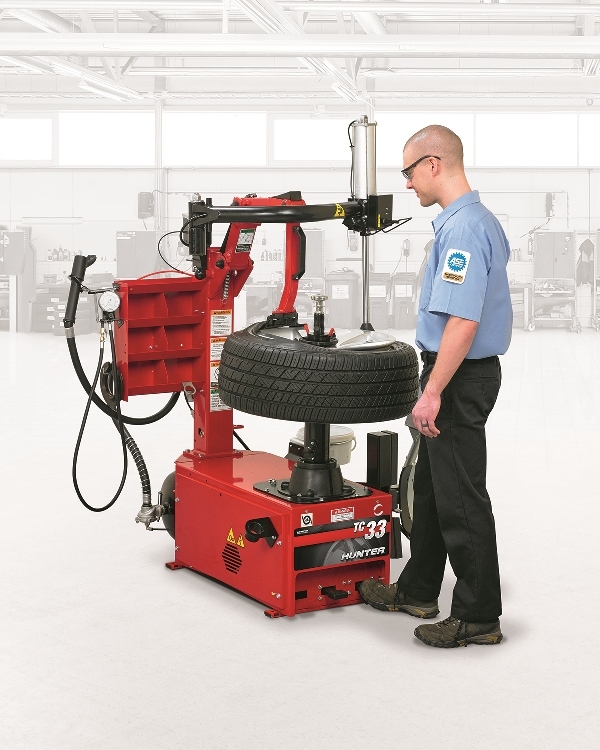 Conventional Center-Clamping Tire Changer

Floating 3-Point Arm

Polymer Protected and Cam Plate Wheel Protection

Convenient Tool and Accessory Storage

Powerful 220V Motor

0-14 RPM Clockwise and 14 RPM Counterclockwise

867 ft-lbs of Torque

PowerOut Bead Loosener

Features Built-In Blast Inflation

Optional Bead Press Arm
Hunter TC33
Center Clamp Tire Changer
Of the four different models of center-clamp tire changers that Hunter Engineering offers, the TC33 is a conventional center-clamping tire changer with classic design. It has a standard polymer head, a standard side shovel and an optional press arm.
Hunter's TC33 center-clamp tire machine has an exclusive tilted ergonomic feature which eases levering, reduces back stress and provides unobstructed access to the lower bead for lubrication.
Standard Features of the TC33:

Tilted Ergonomic Design

Conventional Center-Clamping Tire Changer

Floating 3-Point Arm

Polymer Protected and Cam Plate Wheel Protection

Convenient Tool and Accessory Storage

Powerful 220V Motor

0-14 RPM Clockwise and 14 RPM Counterclockwise

867 ft-lbs of Torque

PowerOut Bead Loosener

Features Built-In Blast Inflation

Optional Bead Press Arm
In addition, there are other exclusive features for the TC33 tire changer. One is built-in blast inflation which directs bursts of compressed air to easily seat the bead. The other is a center clamp design for simplicity, allowing for strong clamping force. No need for flange plates on reverse wheels with this model.

Optional features include a bead press arm which moves with the wheel to hold the tire in drop-center position and provides special assistance for high performance tires. Another optional feature on the TC33 is a plus device. The plus device is an assist tool that aids in lubricating, lifting, and guiding the tire into the drop-center helping a technician tackle a broad range of tires, from cars to medium-duty trucks.
Quality Automotive Equipment & Service is the Midwest's leader and authorized dealer for Hunter Engineering tire changers. Our team can help consult on the various styles of Hunter tire changer equipment and how they may best fit your shop's needs. Give us a call at 913-205-1350 or ask us a question here, we are happy to help!
Conventional Center-Clamping Tire Changer

Floating 3-Point Arm

Polymer Protected and Cam Plate Wheel Protection

Convenient Tool and Accessory Storage

Powerful 220V Motor

0-14 RPM Clockwise and 14 RPM Counterclockwise

867 ft-lbs of Torque

PowerOut Bead Loosener

Features Built-In Blast Inflation

Optional Bead Press Arm