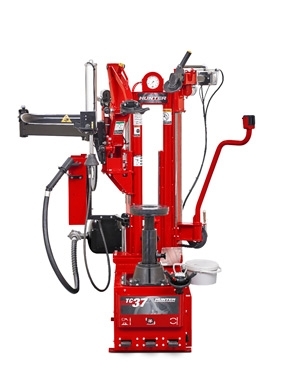 Patented Center Clamp System

867 ft-lbs. of Torque

0-14 RPM Clockwise Speeds

7 RPM Counterclockwise Speed

Single Pendant Control Operation

Features Standard Bead Press Arm

Features Blast Inflation

Standard Vertical Locking Head

Polymer Construction

Split Bead Roller System

Match-Mounting & Bead Massage
Optional PowerOut Bead Loosener
Eliminates Vibration and Reduces Comebacks
Hunter TC37
Center Clamp Tire Changer
Hunter Engineering's TC37 center post tire changer features a tilted ergonomic design and polymer mount/demount head to simplify use while providing unobstructed access to the lower bead protecting the wheel face.
The TC37 center-clamping tire changer uses a patented and intuitive center clamp system that offers a simplified clamping technique at three adjustable height positions. The vertical locking head protects the wheel face making this slick design a must have for auto body shops and dealerships.
Hunter's new split bead roller system on the TC37 tire changer simplifies control use, making match-mounting easy. The split bead roller system uses a easy bottom bead demounting system with roller to help simplify the tire changing process.
Hunter's center clamp tire changers along with its Road Force wheel balancer helps to eliminate vibration problems, reduce comebacks and increase customer satisfaction by utilizing bead rollers that safely hold the tire stationary all while the rim is rotated to complete match-mounting.
Key Features of the TC37 include:
Patented Center Clamp System

867 ft-lbs. of Torque


0-14 RPM Clockwise Speeds

7 RPM Counterclockwise Speed

Single Pendant Control Operation

Features Standard Bead Press Arm

Features Blast Inflation

Standard Vertical Locking Head

Polymer Construction

Split Bead Roller System

Match-Mounting & Bead Massage
Optional PowerOut Bead Loosener
Eliminates Vibration and Reduces Comebacks
Optional features with the TC37 include a bead press arm that helps assist mounting difficult assembles as well as Hunter's PowerOut bead loosener that provides ergonomic control, making large assembly service easy.
Quality Automotive Equipment & Service is specially trained in all Hunter Engineering product lines. Our service technicians can help you not only understand the various types of tire changers and their applications but they help install, service and train your team on its use. Please reach out and ask your questions today. If you'd prefer to call, you can contact us at 913-205-1350.
Patented Center Clamp System

867 ft-lbs. of Torque

0-14 RPM Clockwise Speeds

7 RPM Counterclockwise Speed

Single Pendant Control Operation

Features Standard Bead Press Arm

Features Blast Inflation

Standard Vertical Locking Head

Polymer Construction

Split Bead Roller System

Match-Mounting & Bead Massage
Optional PowerOut Bead Loosener
Eliminates Vibration and Reduces Comebacks