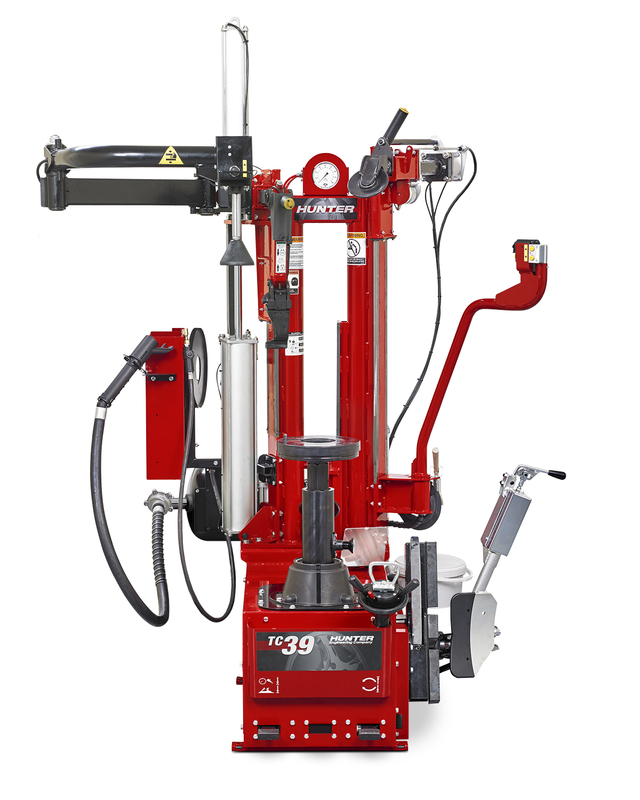 Standard Features
Bead Press Arm

Patented Leverless Mount Head

867 ft-lbs. Torque

0-14 RPM Variable Clockwise Speed

7 RPM Counter-Clockwise Speed

Blast Inflation

Single Pendant Control

Split Bead Roller System

Center-Clamp System

Features Match-Mounting and Bead Massage

Optional PowerOut Bead Loosener
Hunter TC39
Center Clamp Tire Changer
Hunter Engineering is the leading manufacturer of the fastest, the most powerful and easiest to use tire changers in the country. The TC39 center-clamp tire changer is no exception to those rules. Its patented lever less mount head option positions bead without levers making it quick, easy and damage proof to tires and rims.
Hunter's TC39 comes standard with a bead press arm which helps assist mounting difficult assemblies. This model also comes with an exclusive split bead roller system that makes match-mounting easy by quickly demounting the bottom bead with a lower roller. This unique system allows direct indention speeds bead-breaking on all tires.
Utilizing its patented center-clamp and cam action system allows for three adjustable height positions and creates a simple clamping system that multiplies it's clamping force.
Features of the TC39 tire changer include:
Bead Press Arm

Patented Leverless Mount Head

867 ft-lbs. Torque

0-14 RPM Variable Clockwise Speed

7 RPM Counter-Clockwise Speed

Blast Inflation

Single Pendant Control

Split Bead Roller System

Center-Clamp System

Features Match-Mounting and Bead Massage

Optional PowerOut Bead Loosener
In addition to the standard features listed above, the TC39 also comes with two optional additions that help make the tire changing process more seamless. The first is Hunter's PowerOut bead loosener designed to have ergonomic control to make operation easier while protecting the wheel. The second is match-mounting & bead massage using Road Force wheel balancers. This system eliminates vibration problems, reduces comebacks and increases customer satisfaction.

If you are in need of special assistance in picking out the perfect Hunter tire machine for your shop, give the team at Quality Automotive Equipment & Service a call at 913-205-1350. Quality AES is a preferred dealer of Hunter equipment and can help provide financing if necessary along with a bunch of other equipment related services. Ask us any questions you may have here.
Standard Features
Bead Press Arm

Patented Leverless Mount Head

867 ft-lbs. Torque

0-14 RPM Variable Clockwise Speed

7 RPM Counter-Clockwise Speed

Blast Inflation

Single Pendant Control

Split Bead Roller System

Center-Clamp System

Features Match-Mounting and Bead Massage

Optional PowerOut Bead Loosener