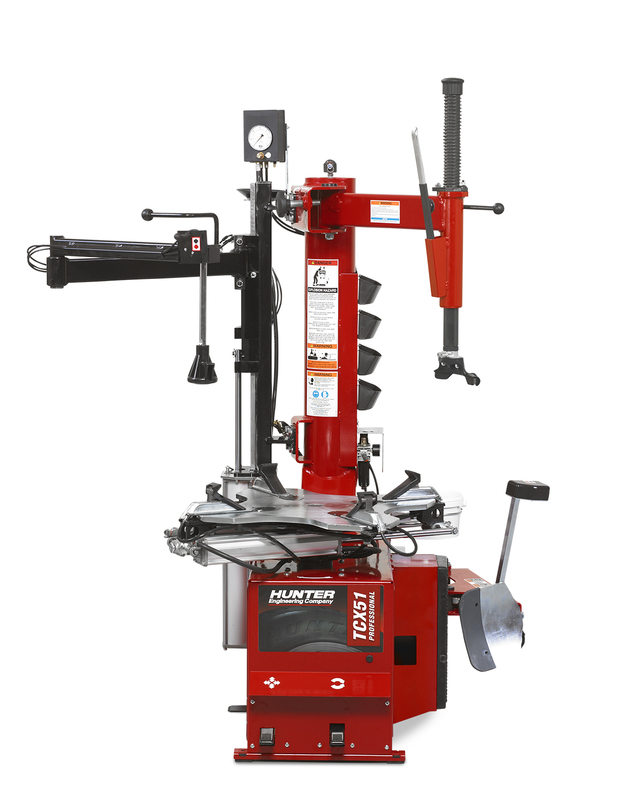 Provides 10 to 26 in. Clamping Range

Most Powerfule Bead Breaker in Class

Three-way Adjustable Rim Fit

Shovel Protectors Standard

Conventional Mount Head Configuration

Long Service Life
Heavyweight for Less Movement
Rigid Chassis Reducing Tire Damage and Operator Effort
Hunter TCX51
Table Top Tire Changer
Hunter Engineering is the industry leader for tire machines that offer speed and power. The TCX table top tire machine series comes in many configurations and can be matched perfectly to your shop's needs.
The TCX51 series is the heaviest model in its class and has a super long service life. Built to make easy work on low profile tires, the TCX51 series helps your team of technicians do the job right and do it quicker than most any other tire machine allows all by using a rigid chassis that reduces tire damage and operator effort.
The Hunter TCX51 tire machine series comes in three models:
TCX51H - Hunter's newest model. The TCX51H has a 220V dedicated electric motor, has a 25% heavier mass, 50% more torque and a two-speed 7 and 17 rpm.

TCX51E - The TCX51E has a 220V or 110V electric motor with a 20% heavier mass, 20% more torque and a single-speed 10 rpm.
TCX51A - The TCX51A has an air motor with a 20% heavier mass. It has 5% more torque and a variable-speed 10 rpm max.
Let Quality Automotive Equipment & Service help identify which series and models of Hunter tire changer equipment suits your shops needs the best. With a few questions answered, our team of authorized Hunter professionals can help determine what model, size, and specifications would work best for your shop and technicians. If you are ready to talk today, you can reach us at 913-205-1350 or send us your questions.
Provides 10 to 26 in. Clamping Range

Most Powerfule Bead Breaker in Class

Three-way Adjustable Rim Fit

Shovel Protectors Standard

Conventional Mount Head Configuration

Long Service Life
Heavyweight for Less Movement
Rigid Chassis Reducing Tire Damage and Operator Effort