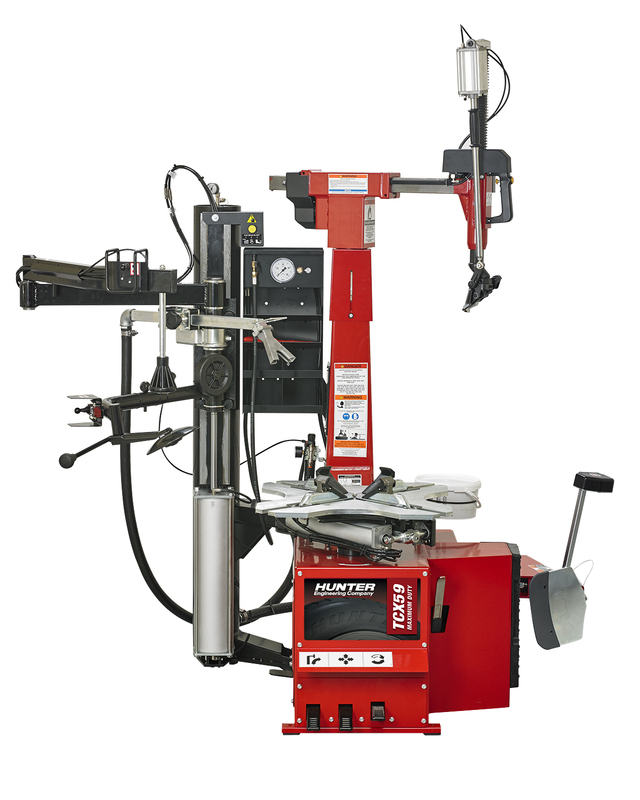 220V High Torque Motor

Reverse Single Speed

Locking Lower Arm

Swing-Arm Column

Bead Press System with FastBlast

Leverless Head

Tabletop Clamp

Push Button Automatic Swing Arm

PowerOut Bead Loosener

PowerOut Side Shovel
Hunter TCX59
Table Top Tire Changer
Like the TCX58, Hunter's new TCX59 table top tire changer is used to service bigger vehicle tires like trucks and SUV's. The only real difference between them is the TCX58 uses a standard tool head while the TCX59 uses a lever less head to relieve bead stress.
Both the TCX58 and TCX59 share many of the same attributes. For example, the TCX59 table top tire machine, like the TCX58, is first and foremost, safe and easy to use. Like its counterpart, this tire changer uses the FastBlast inflation system that allows for seating the most difficult of tires.
The TCX59 uses a bead press system which utilizes a single foot press, a tire lifting hook and oversized air lines for fast operation and effortless inflation. With a 6.5 gallon air tank, the TCX58 makes quick work of an alternative and more traditional jaw blast inflation system and provides a higher capacity of air than most systems used for inflation.
Here are some of the features of the TCX59:
220V high torque motor with two-speed forward drive (7 and 17 rpm)

Reverse single speed (7 rpm)

Locking lower arm for help demounting difficult and heavy tires

Swing-arm column used to lock the diameter and width for same-size wheels

Bead press system with FastBlast, a new revolutionary inflation system

Leverl less head to relieve bead stress

Tabletop clamp for 10 - 28 in. clamping range (Additional adaptors for 6" - 30")

Push button automatic swing arm with foot pedal

PowerOut bead loosener with fingertip control is the most powerful in the industry

PowerOut side shovel pulls tire out of stuck beads and saves time
Quality Automotive Equipment & Service is an authorized dealer and distributor of Hunter Engineering automotive equipment. Our team is trained and certified by Hunter to inspect, install and service Hunter equipment. Ask us your questions or give Quality AES a call at 913-205-1350 to schedule a free consultation and learn more about Hunter Engineering's incredible line of tire changing equipment.
220V High Torque Motor

Reverse Single Speed

Locking Lower Arm

Swing-Arm Column

Bead Press System with FastBlast

Leverless Head

Tabletop Clamp

Push Button Automatic Swing Arm

PowerOut Bead Loosener

PowerOut Side Shovel