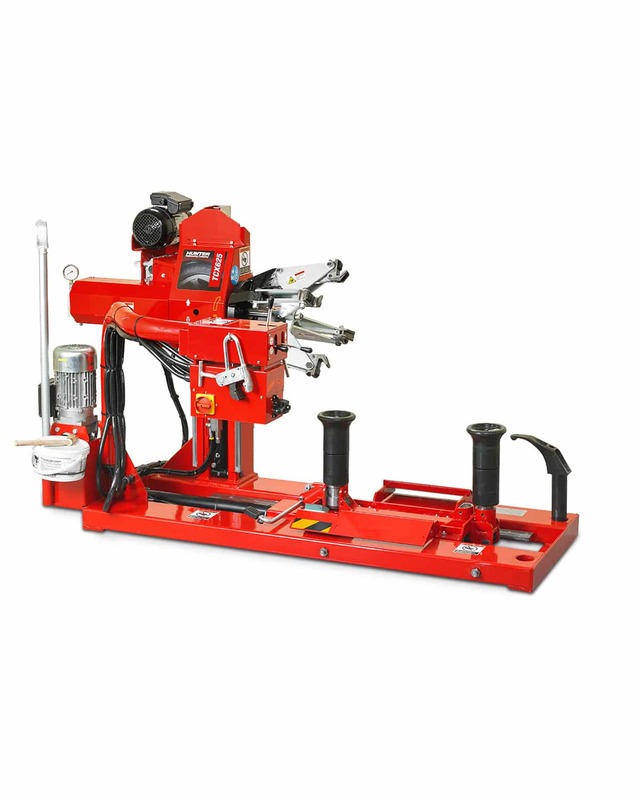 1,250 ft-lbs of torque

7 RPM clockwise and counterclockwise rotation speed

14.5" - 24.5" max rim diameter

Tulip-style clamp

All-in-one controls

Bead-breaking rollers

Service standard truck tires and super-singles

Service steel or aluminum rims

Hydraulic-powered carriage

Fast and easy demounting (55 seconds)

Fast and easy mounting (30 seconds)
Hunter TCX625
Heavy-Duty Tire Changer
Looking for a powerful heavy-duty tire changer that can work on big tires? Hunter Engineering has you covered. Whether you are in need of an efficient machine that is capable to change semi-truck tires or you need to change agricultural or skidder tires, Hunter has a model to suit you.
Hunter's TCX625 is a tire changer optimized for over-the-road truck tires. Its tulip style clamp and all in one controls allows for quick and easy clamping, control and flexibility. If you seek a tire changer that requires no lifting, no load, no bars and no hammers, the TCX625 is a great choice for the shop.
Using a hydraulic-powered carriage eases wheel clamp positioning and creates higher speed for fast service. Once the tire is on the carriage, the bead-breaking rollers help save time by quickly and easily breaking tire beads all while limiting any and all wheel damage.
Here are some features of the TCX625 heavy-duty tire changer:

1,250 ft.-lbs of torque

7 RPM clockwise and counterclockwise rotation speed

14.5" - 24.5" max rim diameter

Tulip-style clamp

All-in-one controls

Bead-breaking rollers

Service standard truck tires and super-singles

Service steel or aluminum rims

Hydraulic-powered carriage

Fast and easy demounting (55 seconds)

Fast and easy mounting (30 seconds)
Quality Automotive Equipment & Service has been installing, inspecting and servicing Hunter tire changer equipment since 1999. As an authorized dealer for Hunter Engineering, Quality AES is here to help you identify, choose and finance the best tire changeover equipment on the market today. Give us a call at 913-205-1350 or ask us your questions here. We look forward to discussing Hunter equipment with you today.
1,250 ft-lbs of torque

7 RPM clockwise and counterclockwise rotation speed

14.5" - 24.5" max rim diameter

Tulip-style clamp

All-in-one controls

Bead-breaking rollers

Service standard truck tires and super-singles

Service steel or aluminum rims

Hydraulic-powered carriage

Fast and easy demounting (55 seconds)

Fast and easy mounting (30 seconds)