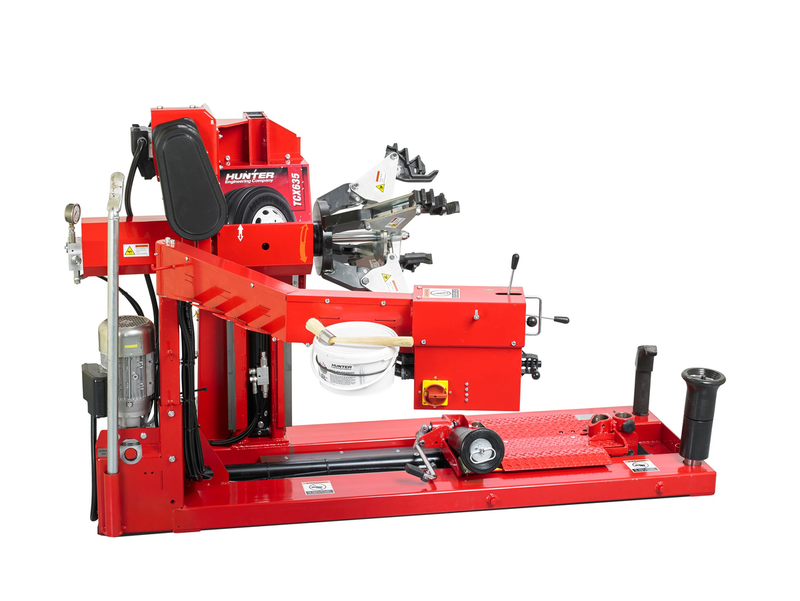 1,625 ft-lbs. of torque

14.5" -24.5" max rim diameter

9 RPM clockwise and counter-clockwise rotation speed

All-in-one controls

Bead-breaking rollers

Hydraulic-powered carriage

Effortless clamping design

Operator-friendly - low risk to technicians
Hunter TCX635
Heavy-Duty Tire Changer
Hunter's heavy-duty tire changers get the job done period. From all-in-one controls and an operator friendly design to superior wheel accommodation and incredible power, the TCX635 heavy-duty tire changer from Hunter Engineering is a beast on big tires.
Incredibly friendly for the technician, the TCX635 requires no hammers or bars or the heavy lifting of tires. It has a low service height and optional ramps that both lessen the fear of a tire falling off during demounting. Hunter's TCX635 comes with a flexible pivot and height adjustable all-in-one control panel where all user functions are housed making life for the technician easier.
Along with a solid design, exclusively to promote ease for the technician, also comes power. The TCX635 works at faster speeds to complete the job. This heavy-duty tire changer uses a powerful hydraulic carriage and easy rollers that decreases service time and overall hands-on tasks making it a perfect addition to the shops floor.
The TCX635 heavy-dute tire changer has the following features:
1,625 ft-lbs. of torque

14.5" -24.5" max rim diameter

9 RPM clockwise and counter-clockwise rotation speed

All-in-one controls

Bead-breaking rollers

Hydraulic-powered carriage

Effortless clamping design

Operator-friendly - low risk to technicians
Hunter Engineering has been designing and manufacturing quality automotive equipment for 75 years. As a proud partner and distributor of Hunter equipment, Quality Automotive Equipment & Service would like to personally invite you to reach out to speak with one of our specialist at 913-205-1350 for added insight on the sale, installation, training and service of these fine machines. Or if you prefer, you may ask us your questions here.
1,625 ft-lbs. of torque

14.5" -24.5" max rim diameter

9 RPM clockwise and counter-clockwise rotation speed

All-in-one controls

Bead-breaking rollers

Hydraulic-powered carriage

Effortless clamping design

Operator-friendly - low risk to technicians