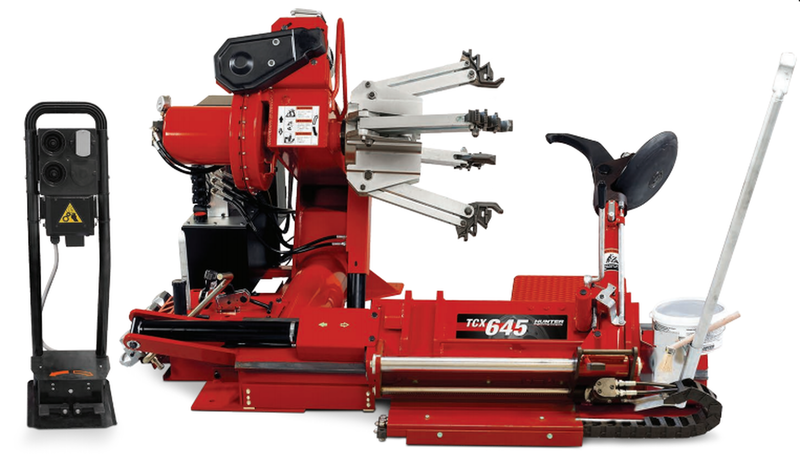 10 RPM clockwise and 5 RPM counter-clockwise
90" max tire diameter
14" - 46" rim clamping, up to 56" with optional accessories
Match mounting capable
Mobile pedestal controls
3,527 capacity spindle head
Hydraulic platform with toolarm hydraulic shuttle
Tulip style clamp
Integrated tool storage
Disk and hook tools
Hunter TCX645
Heavy-Duty Tire Changer
One exciting and exclusive safety feature of the TCX645 is a mobile pedestal control that is safe for the technician to operate while wireless, if preferred, and away from the machine. With full access to the controls you can service either the front or the back of large assemblies at low risk, never needing to lift, pry or use bars or hammers.

The TCX645 has two separate speeds for bead loosening, a high speed and a low speed for the tough ones. In addition, it has an on-boarding storage area to help you keep your standard and optional accessories more organized and in one place.
Hunter's TCX645 heavy-duty tire changer comes standard with versatile jaws that can clamp center holes less than 4" or rims as large as 46". It has a spring-loaded hook and disc roller making mounting and demounting less of a chore.

Here are some of the key features of the TCX645 tire changer:

10 RPM clockwise and 5 RPM counter-clockwise

90" max tire diameter

14" - 46" rim clamping, up to 56" with optional accessories

Match mounting capable

Mobile controls – hand and foot pedestal control for multiple operations

3,527 capacity spindle head lifts the wheel into position

Hydraulic platform with tool arm hydraulic shuttle

Tulip style clamp – universal, self-centering with two-speed chuck rotation

Integrated tool storage for standard and optional accessories

Disk and hook tools standard
For all your Hunter heavy-duty tire changer needs, choose Quality Automotive Equipment & Service, the Midwest's leader for advanced auto equipment, parts, installation and service. Our team is standing by to help answer any questions you may have whether you need pricing, financing, installation, service or training. Give the team at Quality AES a call today at 816-205-1350.

10 RPM clockwise and 5 RPM counter-clockwise
90" max tire diameter
14" - 46" rim clamping, up to 56" with optional accessories
Match mounting capable
Mobile pedestal controls
3,527 capacity spindle head
Hydraulic platform with toolarm hydraulic shuttle
Tulip style clamp
Integrated tool storage
Disk and hook tools