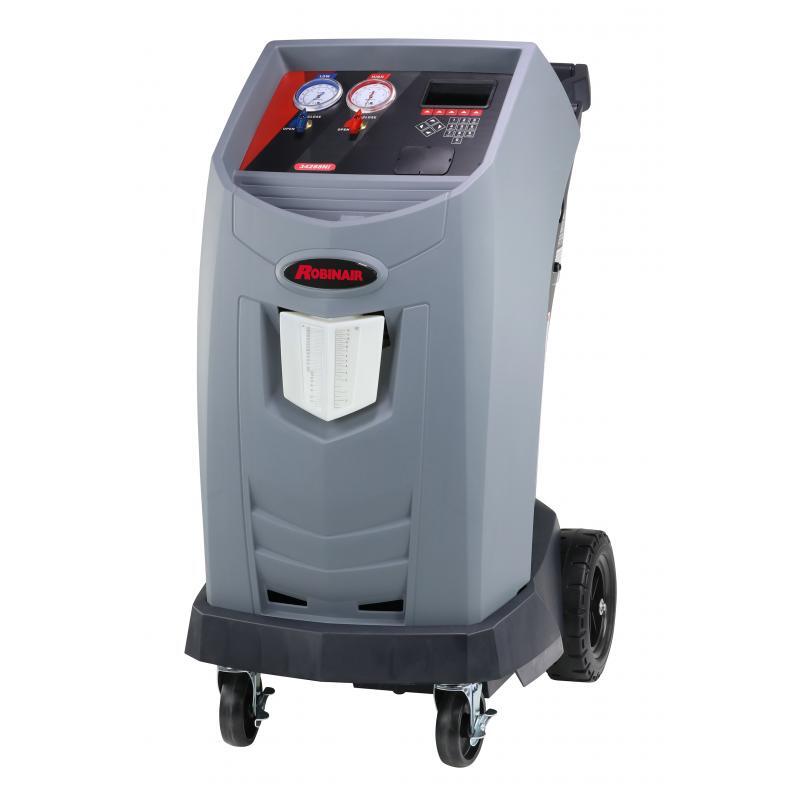 Dimensions 107cm X 61cm X 76cm

5 X 9 LCD Graphical Display

68 kg (150 lb.) Filter Capacity

<70 dB(A) Maximum Noise

Weight 161 lb.

1.5 CFM Single-Stage Vacuum Pump


22-lb DOT Internal Tanks

9' SAE J2886 Hoses

150 - lb. Spin-On Filter

Integrated Cord Wrap

Unmatched Minimum 98.5% Refrigerant Recovery

Charging Accurate to within +/- 0.5 oz
Robinair 34288NI
R-134a A/C Machine
When you think of the automotive air conditioning industry, Robinair should come to mind. As the foremost leader in A/C refrigerant recover, recycle and recharge machines, Robinair equipment like the new economy R-134A machine models are second to none.
Combining simple operation with its superior accuracy, the 34288NI model from Robinaire outperforms other models by recovering more than 95% of the refrigerant in a vehicle's A/C system. The machine is quick, quiet and easy to use.
The 34288NI uses semi-automatic manual valves and comes with an automatic air purge which helps eliminate system damaging air without monitoring gauges or opening vales. With a 5 X 9 cm graphical LCD, a technician has all they will need to complete their job at their fingertips.
Here are features of the 34288NI A/C Recover, Recycle and Recharge Machine by Robinair:
Dimensions 107cm X 61cm X 76cm

5 X 9 LCD Graphical Display

68 kg (150 lb.) Filter Capacity

<70 dB(A) Maximum Noise

Weight 161 lb.

1.5 CFM Single-Stage Vacuum Pump


22-lb DOT Internal Tanks

9' SAE J2886 Hoses

150 - lb. Spin-On Filter

Integrated Cord Wrap

Unmatched Minimum 98.5% Refrigerant Recovery

Charging Accurate to within +/- 0.5 oz
As the only factory certified Robinair service center in the greater Kansas City area, Quality Automotive Equipment & Service is the Midwest's go to for A/C maintenance, service, training and installation. Our teams of technicians understand the importance of a properly working and maintained air conditioning machines. With same day, one-hour service, a Quality AES technician can keep your shop on track with on-site repair and calibrations. Give our team a call at 913-205-1350 or send us a message today.
Dimensions 107cm X 61cm X 76cm

5 X 9 LCD Graphical Display

68 kg (150 lb.) Filter Capacity

<70 dB(A) Maximum Noise

Weight 161 lb.

1.5 CFM Single-Stage Vacuum Pump


22-lb DOT Internal Tanks

9' SAE J2886 Hoses

150 - lb. Spin-On Filter

Integrated Cord Wrap

Unmatched Minimum 98.5% Refrigerant Recovery

Charging Accurate to within +/- 0.5 oz