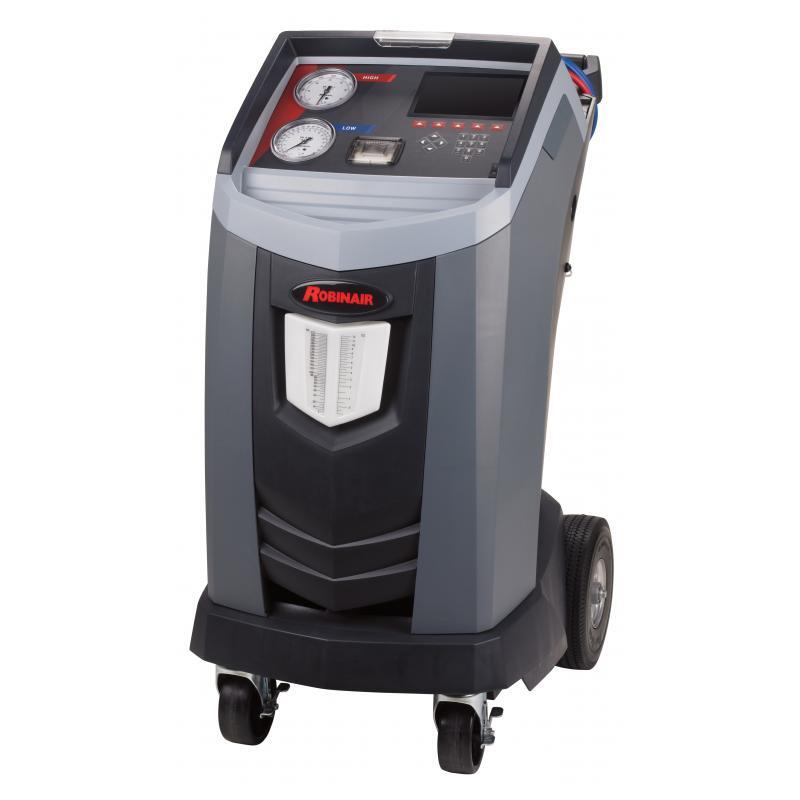 Fully Automatic: Oil Drain, Oil Inject, Dye Inject, Air Purge and Refrigerant Refill

Graphical Display - 7" LCD Screen

Filter Capacity - 150 lb. Spin-On Type

Multiple Oil Bottles to Service Multiple Vehicles


1.5 CFM Dual-Stage Vacuum Pump

30 lb. DOT Internal Tanks

Standard Onboard Printer

Programmable Vacuum Feature

Visual and Audible Alarm if a Problem Occurs or Job is Complete

Charging Accurate to Within +/- 0.5 oz

Wi-Fi and Bluetooth Capable
Robinair 34988NI
R-134a A/C Machine
As the leader in A/C refrigerant recovery, recycle and recharge machines, Robinair's new 34988NI Premium A/C Machine combines superior accuracy and ease of use with a ton of automatic features.
Robinair's 34988NI machine accurately recovers, recycles, evacuates, leak tests and recharges R-134a vehicle systems automatically, freeing up a technician to perform other tasks while servicing the vehicles A/C System.
Utilizing the automatic oil drain and oil inject feature enables the machine to measure the amount of oil removed and automatically resupply the same amount back in. This coupled with the automatic, no monitoring required, refrigerant refill function, creates efficiency and makes the life of an A/C tech easier all day long!
Here are some of the features of the 34988NI Premium A/C Recovery Machine by Robinair:
Fully Automatic: Oil Drain, Oil Inject, Dye Inject, Air Purge and Refrigerant Refill

Graphical Display - 7" LCD Screen

Filter Capacity - 150 lb. Spin-On Type

Multiple Oil Bottles to Service Multiple Vehicles


1.5 CFM Dual-Stage Vacuum Pump

30 lb. DOT Internal Tanks

Standard Onboard Printer

Programmable Vacuum Feature

Visual and Audible Alarm if a Problem Occurs or Job is Complete

Charging Accurate to Within +/- 0.5 oz

Wi-Fi and Bluetooth Capable
Quality Automotive Equipment & Service is an authorized dealer for Robinair A/C Recovery Machines. In fact, Quality AES is the only factory certified Robinair service center in the Greater Kansas City area and their team is eager to help. Our certified technicians can help field your call today at 913-205-1350 and answer the questions you have in determining the right A/C machine for your shop and A/C service staff. We look forward to hearing from you!
Fully Automatic: Oil Drain, Oil Inject, Dye Inject, Air Purge and Refrigerant Refill

Graphical Display - 7" LCD Screen

Filter Capacity - 150 lb. Spin-On Type

Multiple Oil Bottles to Service Multiple Vehicles


1.5 CFM Dual-Stage Vacuum Pump

30 lb. DOT Internal Tanks

Standard Onboard Printer

Programmable Vacuum Feature

Visual and Audible Alarm if a Problem Occurs or Job is Complete

Charging Accurate to Within +/- 0.5 oz

Wi-Fi and Bluetooth Capable