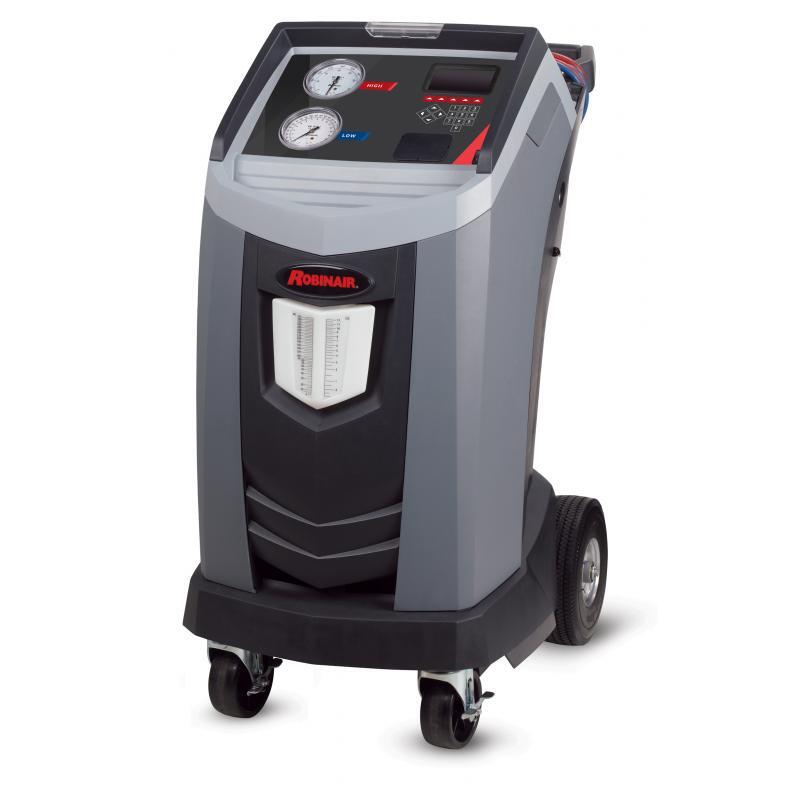 Fully Automatic: Refrigerant Refill, Oil Drain, and Air Purge

Integrated Refrigerant Identifier

Meets SAE J2927 and J2843 Standards

A/C System Refrigerant Flush

Programmable Vacuum Feature

New Vacuum Leak Test and Monitoring

New Syringe-Type Oil Injectors

4.3" LCD Color Display

Save, Print and Store Service Data

Capable of Servicing High Voltage Electric Compressor A/C Systems

Visual & Audible Alarm and Notifications

Wi-Fi and Bluetooth Capable


Optional Tracer Gas Leak Detector
Robinair AC1234-4
R-1234yf ACS Machine
Robinair's A/C recovery, recycling and recharging machines are in more automotive repair shops and dealerships in North America than all other brands combined.
After creating the first commercial R-1234yf machine in the country that fully met the SAE J2927 and J2843 requirements, Robinair continues to engineer machines that mechanics have come to rely on for efficiency and compliance.
Now days, the R-1234yf refrigerant system is in 80% of the top-9 vehicle models sold with 50% of new vehicles sold using new refrigerant. This means your shop needs a premier A/C recovery, recycling, and recharging machine that works like Robinair's AC1234-4 A/C, a fully automatic ACS machine.
Accurately reliable, the AC1234-4 is a machine capable of servicing standard and high-voltage vehicle A/C systems automatically. It has a 98.5% refrigerant recovery efficiency and easy-to-use functions that a technician can program for service, walk away, and return when the job is complete.
Below is a list of features for the AC1234-4 ACS Machine by Robinair:
Fully Automatic: Refrigerant Refill, Oil Drain, and Air Purge

Integrated Refrigerant Identifier

Meets SAE J2927 and J2843 Standards

A/C System Refrigerant Flush

Programmable Vacuum Feature

New Vacuum Leak Test and Monitoring

New Syringe-Type Oil Injectors

4.3" LCD Color Display

Save, Print and Store Service Data

Capable of Servicing High Voltage Electric Compressor A/C Systems

Visual & Audible Alarm and Notifications

Wi-Fi and Bluetooth Capable


Optional Tracer Gas Leak Detector
Quality Automotive Equipment & Service is greater Kansas City's only factory certified service center and authorized dealer for Robinair equipment. Our goal at Quality AES is to keep our shops and dealerships A/C machines operational, safe and compliant. Our trained technicians provide A/C service, maintenance and training on R-134a and R-1234yf A/C recovery machines and can help answer any questions you have today! Give us a call at 913-205-1350 if you'd prefer to talk by phone.
Fully Automatic: Refrigerant Refill, Oil Drain, and Air Purge

Integrated Refrigerant Identifier

Meets SAE J2927 and J2843 Standards

A/C System Refrigerant Flush

Programmable Vacuum Feature

New Vacuum Leak Test and Monitoring

New Syringe-Type Oil Injectors

4.3" LCD Color Display

Save, Print and Store Service Data

Capable of Servicing High Voltage Electric Compressor A/C Systems

Visual & Audible Alarm and Notifications

Wi-Fi and Bluetooth Capable


Optional Tracer Gas Leak Detector