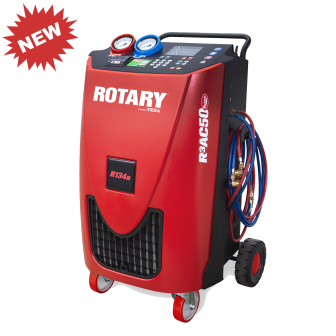 R134a Gas Compatible

Fully Automatic Function

Dual Fan Evaporator

Automatic Maintenance Alarm

Automatic Management of Non-Condensable Gasses

Automatic Compensation for Recharging Line Length

Comes with Software for Multi-Language

Large 50 lb. Refrigerant Tank

9' ft. Service Hoses

Vacuum Pump - 4 CFM

+/- 0,5 oz Charging Accuracy
Over 95% High Efficiency Refrigerant Recovery
SD Card Management of Database and Service
TFT Wide Display in Color
Easy to Maintenance
2 Year Parts Warranty

1 Year Labor Warranty
Rotary R3AC50
R-134a A/C Machine
Rotary, a trusted name in automotive equipment, has engineered the R3AC50 to meet the needs of professional automotive technicians. With its R134a gas compatibility, comprehensive features, and durable construction, the R3AC50 AC machine is a valuable tool for automotive workshops, enabling technicians to deliver efficient and effective air conditioning system services.

The Rotary R3AC50 is an advanced AC machine designed to service automotive air conditioning systems that utilize R134a gas. Engineered to meet the demands of modern automotive workshops, it provides efficient and reliable AC system maintenance and repair capabilities.
Aside from it's refrigerant tank size, which is 50 lbs. and 67% larger than most competitors, one of the key features of the R3AC50 is its compatibility with R134a refrigerant gas, commonly used in automotive air conditioning systems. This ensures that the machine can handle the specific requirements of R134a gas, allowing technicians to work on a wide range of vehicles with confidence.
The R3AC50 offers a comprehensive set of functions to diagnose, service, and maintain AC systems. It incorporates features such as automatic refrigerant recovery, recycling, evacuation, leak detection, and recharge, streamlining the AC service process and enhancing efficiency.
AC SERVICE, SALES AND INSTALLATION BY QUALITY AES

As an authorized dealer for Rotary, Quality Automotive Equipment & Service is the go to for shop equipment, sales, and service. Whether you are an auto dealership service center, a collision repair, or service shop, if your shop resides in Kansas or Missouri, Quality AES has you covered as the Midwests leader for AC Machines.
Want to learn more about Quality AES? Meet our team and learn more about our story. Whether you are in need of AC sales, service, installation, training, or maintenance, Quality AES and our team of Rotary certified service technicians can help.
If you have questions about the new R3AC50 AC Machine or any other type of shop related equipment or service needs, give us a call at 913-205-1350 or send us a message here.
R134a Gas Compatible

Fully Automatic Function

Dual Fan Evaporator

Automatic Maintenance Alarm

Automatic Management of Non-Condensable Gasses

Automatic Compensation for Recharging Line Length

Comes with Software for Multi-Language

Large 50 lb. Refrigerant Tank

9' ft. Service Hoses

Vacuum Pump - 4 CFM

+/- 0,5 oz Charging Accuracy
Over 95% High Efficiency Refrigerant Recovery
SD Card Management of Database and Service
TFT Wide Display in Color
Easy to Maintenance
2 Year Parts Warranty

1 Year Labor Warranty