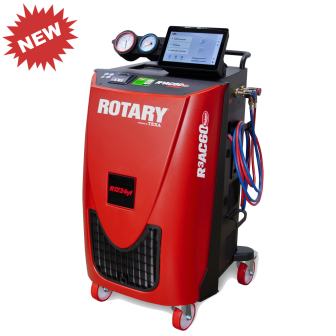 R1234yf Gas Compatible

Fully Automatic Functions

Automatic Leak Detection

97% High Efficiency Refrigerant Recovery

Electronic Scales for Refrigerant Measurement

Two-Stage Vacuum Pump

20 lb. Tank

Fan Protection System (FPS) for Security

Charging Accuracy +/- 15 g

Refrigerant Identifier Included

10" Touchscreen Display

Software for Multi Language Display

Automatic Updates and Maintenance Alarm
2 Year Parts Warranty

1 Year Labor Warranty
Rotary R3AC60
R-1234yf A/C Machine
As a trusted brand in automotive equipment, Rotary has developed the R3AC60 AC Machine to provide exceptional service capabilities for R1234yf gas-compatible air conditioning systems. With its advanced features, compatibility, and robust design, the R3AC60 is an indispensable tool for automotive technicians seeking to deliver efficient and reliable AC services.

The R3AC60 AC Machine by Rotary is a state-of-the-art tool specifically designed to service automotive air conditioning systems that utilize R1234yf gas. This advanced machine offers a comprehensive range of features and functions to meet the specific requirements of modern AC systems.
One of the standout features of the R3AC60 is its compatibility with R1234yf refrigerant gas, which is becoming increasingly prevalent in newer vehicles due to its lower environmental impact. With this compatibility, automotive technicians can confidently service and maintain AC systems that use R1234yf, ensuring they can effectively meet the needs of a wide range of vehicles.
The R3AC60 incorporates various advanced functions, including automatic refrigerant recovery, recycling, evacuation, leak detection, and recharge. These features streamline the AC service process, allowing technicians to efficiently diagnose and address issues in automotive air conditioning systems. The machine's automated and user-friendly interface with intuitive controls further enhance its usability, enabling technicians to navigate its functions with ease.
In terms of durability and reliability, the R3AC60 is built to withstand the demanding environment of automotive workshops. It features high-quality components and a sturdy construction, ensuring long-lasting performance and consistent results.
MEET QUALITY AES, AN AUTHORIZED ROTARY DEALER
Quality Automotive Equipment & Service, an authorized dealer for Rotary, is the ultimate destination for all your shop equipment, sales, and service needs. Whether you run an auto dealership service center, a collision repair shop, or a service facility in Kansas or Missouri, Quality AES is the leading provider of AC Machine sales, service and repair in the Midwest.
To get to know Quality AES better, we invite you to meet our team and explore our story. Our dedicated team of Rotary-certified service technicians are here to assist you with all your AC sales, service, installation, training, and maintenance needs.
If you have any inquiries regarding the innovative R3AC50 AC Machine or any other shop-related equipment or services, feel free to contact us at 913-205-1350 or send us a message.
At Quality AES, we prioritize customer satisfaction and strive to deliver top-notch service. We understand the importance of reliable equipment and efficient maintenance for your shop's success. With our expertise and industry-leading products, we are committed to providing the highest level of support and assistance to meet your specific needs.
R1234yf Gas Compatible

Fully Automatic Functions

Automatic Leak Detection

97% High Efficiency Refrigerant Recovery

Electronic Scales for Refrigerant Measurement

Two-Stage Vacuum Pump

20 lb. Tank

Fan Protection System (FPS) for Security

Charging Accuracy +/- 15 g

Refrigerant Identifier Included

10" Touchscreen Display

Software for Multi Language Display

Automatic Updates and Maintenance Alarm
2 Year Parts Warranty

1 Year Labor Warranty