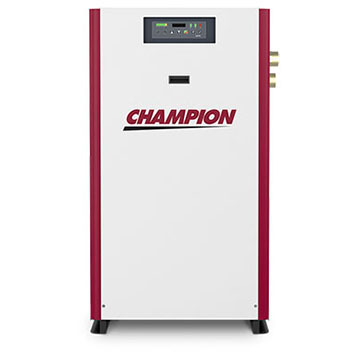 10 Models to Choose From

90 - 675 SCFM

250 PSIG Maximum Inlet Air Pressure

130 Degree (F) Maximum Inlet Operation Temperature

2 Year Premium Warranty Standard with 3 Year Extended (Optional)

ISO 8573.1 Air Quality Built In

No Air Loss Condensate Drains

Compressed Air Circuit Drying Process and Glycol Circuit Cooling Process

Optimized Cabinet Design

Stainless Steel Brazed Plate Heat Exchangers

Integral Filtration with Optional Cold Coalescer

Rugged Glycol Reservoir

Thermal Media Circulation Pump
Champion CRE Series
90-675 SCFM Cycling Refrigerated Air Dryers
The energy saving CRE Series Cycling Refrigerated Dryers, by Champion, are in a class of its own. With an automatic and continuous refrigeration compressor running, the CRE series air dryer can automatically cycle on and off regardless of inlet load. This helps save energy and reduce your cost.
The CRE series has it all. It comes standard with a built-in air filtration system equipped for Grade B filter and an optional Grade E high efficiency coalescing filter upgrade option. Ultimately, to an auto repair shop, this means you'll have a smaller footprint, lower installed total costs and a premium warranty that protects your equipment.
Champions CRE Cycling Dryer is pure innovation at work. Using a compressed air circuit for the drying process, warm air enters the dryer, travels through the air-to-air heat exchanger, is then filtered and the cool air, from the Glycol Circuit process, provides the desired pressure dew point needed.
Here are a few of the features of Champion's CRE Series Cycling Refrigerated Dryers:
10 Models Ranging from 90 - 675 SCFM

250 PSIG Maximum Inlet Air Pressure

250 PSIG Maximum Inlet Air Operation Temperature

2 Year Premium Warranty Standard with 3 Year Extended (Optional)

ISO 8573.1 Air Quality Built In

No Air Loss Condensate Drains

Compressed Air Circuit Drying Process and Glycol Circuit Cooling Process
Quality Automotive Equipment & Service is a proud dealer for Champion and provides annual compressor maintenance service to our customers. Our team of authorized Champion technicians are available to answer your Champion air dryer questions and are happy to help. Give us a call at 913-205-1350 today or leave us a question here.
10 Models to Choose From

90 - 675 SCFM

250 PSIG Maximum Inlet Air Pressure

130 Degree (F) Maximum Inlet Operation Temperature

2 Year Premium Warranty Standard with 3 Year Extended (Optional)

ISO 8573.1 Air Quality Built In

No Air Loss Condensate Drains

Compressed Air Circuit Drying Process and Glycol Circuit Cooling Process

Optimized Cabinet Design

Stainless Steel Brazed Plate Heat Exchangers

Integral Filtration with Optional Cold Coalescer

Rugged Glycol Reservoir

Thermal Media Circulation Pump