Expansion - The Quality AES Way
August 24, 2023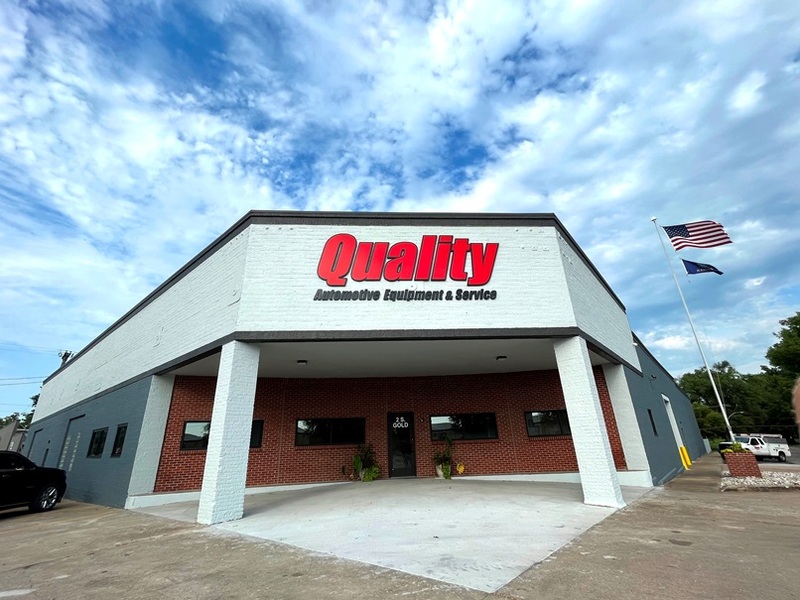 QUALITY AUTOMOTIVE EQUIPMENT & SERVICE OPENS NEW HEADQUARTERS
It's been an exciting and super busy 2023 for Quality Automotive Equipment & Service. As a company,
we would like to give a big thank you to all our customers who've contributed to our success over the years
. We are truly blessed to have the opportunity to work with each of you on such a personal and professional business level.
Quality AES owes every bit of our growth to our loyal customers
that have entrusted us with continued work since 1999.
For some of you that don't know, Quality AES made a recent move, something we've kept hidden for most of the year.
In August of 2023, we moved into a new headquarters that brings with it a lot of room for continued growth
. Although we are mostly in the field with our face-to-face service calls to dealerships and shops in the Missouri and Kansas market, we welcome any of our customers to come visit us and see the expansion and added value we feel we can now provide firsthand from making this move.
Not far from the original steel building, garage, and warehouse we've operated in since opening our doors, our new 24,000 square foot office and warehouse location rests 10 minutes away, smack dab in the heart of Paola, KS. This new location provides a host of advantages for our business internally and we thought we would share how this helps our current and future customers as well.
Internally
, the new office allows for more individual offices, provides company growth opportunities, creates more autonomy and room to focus and plan.
Externally
, for our customers, it allows us to buy more equipment to stockpile and expedite to customers more quickly.
Overall
, the advantages have been continuous, new, and ongoing as we acclimate to our new office environment.
We encourage you, if you are learning of Quality AES for the first time, to see the
automotive equipment we offer
, browse the
list of services we specialize in
and
view photos of our company
in action. Click the provided link if you'd like to
see recent images of our new facility
.
EXPANSION AND GROWTH ARE A POSITIVE THING
We mentioned some of the advantages of our larger warehouse space and to expand on this a bit more, what this open indoor space provides us with is room to store everything our customers, technicians, and our team needs to deliver quality work and then some.
Added Surplus of Quality AES Equipment and Inventory:
Automotive Lifts and Alignment Rack Options: (Rotary, Stertil Koni and Hunter)
15+ Champion Compressed Air Systems Stocking Distributor (Only Midwest Distributor to Bulk Stock)
Added Parts Storage (Surplus in Equipment Including Lift Cylinders for Maintenance and Repair Tickets)
More Stock on New A/C Machines (Rotary and RobinAir)
New Hunter Equipment (Tire Changers, Brake Lathes, Alignment Systems, and Tire Balancers)
New Mobile Column HD Automotive Lifts, and Many Other HD Products (Stertil Koni)
Improved Workspace for Quality AES Techs to Load and Complete Daily Client Services
Expanded Shelving (Parts and Shop Equipment of all kinds, Big Energy Logic Shop Fans, Compressors, and Oil/Bulk Fluid Management Systems).
Thanks again to our customers and our wonderful team for all their hard work to make this office switch and our business strategy such a great success. Please let our team know if there is anything we can help your shop accomplish in the coming years. To reach us, call 913-205-1350 or you may
message us here
.
Related Articles: